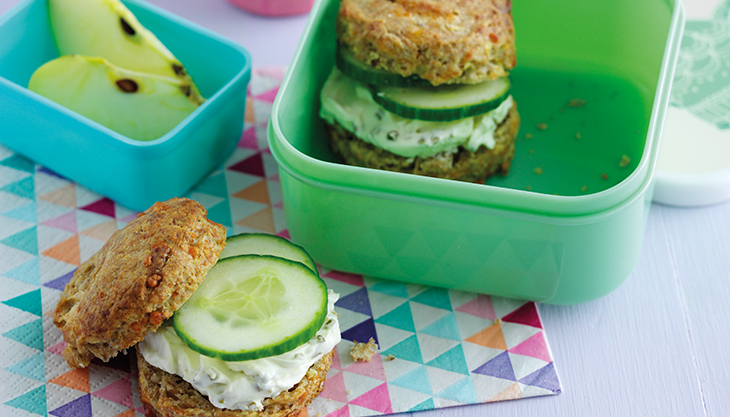 Makes 8 Portions
Suitable for freezing
Preparation 15 minutes
25 minutes cooking time
210 C°, 425 F°, Gas Mark 7
Ingredients
Savoury scones make a good alternative to the usual sandwich and these have been pimped up with the addition of cheese, apple and linseeds/flaxseeds. Spread the scones with butter or, to make them more filling, split in half and fill with cream cheese and slices of cucumber. To make sweet scones, leave out the cheese and stir in 2 tablespoons caster/superfine sugar instead.
Hero Food: apples
Much of an apple's vitamin C content is found within or just below the skin, so it pays to eat the fruit with the skin on. The whole fruit is also a good source of fibre and valuable antioxidants.
200g self-raising wholegrain flour, plus extra for dusting
1/2 tsp baking powder
1 tbsp ground linseeds/flaxseeds
50g chilled butter, cubed
1 apple, with skin, cored and grated
90g mature Cheddar cheese, grated
100ml milk, plus extra for brushing
Method
Preheat the oven. Line a baking sheet with baking parchment.
Sift the flour and baking powder into a mixing bowl, adding any bran left in the sieve/fine-mesh strainer. Stir in the linseeds/flaxseeds.
Using your fingertips, lightly rub the butter into the flour mixture until it resembles coarse breadcrumbs. Stir in the apple and Cheddar. Gradually, stir in the milk using a fork, then bring the dough together with your hands.
Press out the dough on a lightly floured work surface, about 2.5cm/1in thick. Using a 4.5cm/13/4in cutter, stamp out 8 scones. Place the scones on the prepared baking sheet and brush the tops with milk. Bake for 20-25 minutes until risen and golden.
Transfer to a wire rack and serve warm or leave to cool
Nicola Graimes
Nicola Graimes is an award winning cookery writer and former editor of Vegetarian Living magazine. She has written more than 20 books, including The Top 100 Recipes for a Healthy Lunchbox , The Big Book of Wok, The Big Book of LowCarb Recipes, Veggienomics, The New Vegetarian Kitchen (chosen as one of OFM 's Top 50 Cookbooks of the Year), and the bestselling book The Part-Time Vegetarian for Nourish.