Bournemouth Fireworks at the Littledown Centre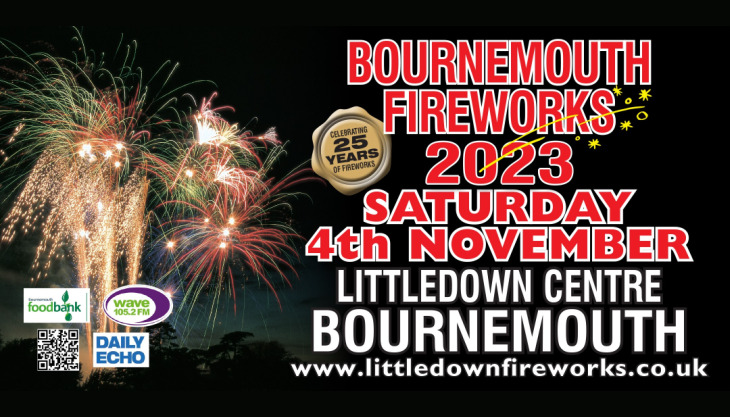 Bournemouth's biggest and best-loved fireworks party is back with a bang this year as Bournemouth Fireworks celebrates its silver jubilee at the Littledown Centre on Saturday 4 November.
And with three fireworks displays for the price of one – and a host of new attractions – no wonder Bournemouth Fireworks is a highlight of the community calendar.
"This year is the 25th Bournemouth Fireworks so we're pulling out all the stops to make it a party to remember on the fourth of November," says event director Michael Callaghan.
"What's more we're doing it all for the same price as last year!"
Early bird tickets are on sale from 1 October with family tickets at just £25, a saving of £7 on the gate price. Adults are £8 and children just £4.50 with under 3s going free.
There are fireworks displays at 7pm, 8pm and the return of the famous White Knuckle at 9pm – the latest and loudest fireworks display in the south. New attractions for this year feature a programme of incredible fire performers before the 7pm and 8pm displays and an all-new live music arena.
This year, Bournemouth Fireworks is spearheading the 'Bring A Tin When You Come In' initiative to supporting the local community by partnering with Bournemouth Foodbank. If everyone who comes to see the fireworks remembers to bring a tin, Bournemouth Foodbank estimates it could collect around two and a half tonnes of food – enough to supply more than 250 local people in need with three-day food parcels.
A spokesperson for Bournemough Foodbank say: "It's not quite as straightforward as that because there are certain items that every food parcel must contain, but all donations are always welcome and we thank Bournemouth Fireworks for supporting the local community in this way."
Gates open at 5.30pm with collection baskets by all entrances.
Saturday 4 November
Littledown Centre, Bournemouth
BH7 7DX
Firework displays at 7pm, 8pm, 9pm
For more details and to book your tickets to Bournemouth Fireworks go to: littledownfireworks.co.uk
or for more local events, see our What's on Guide