Local Charity Host a Midsummer Night's Adventure at Spetchley Park Gardens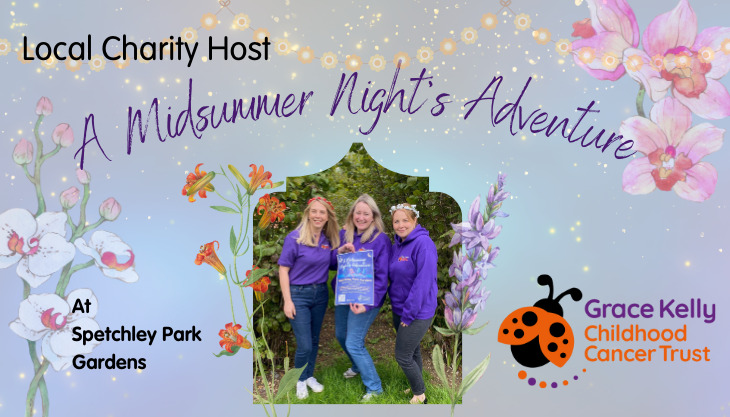 Local Charity Host a Midsummer Night's Adventure at Spetchley Park Gardens
With glimpses of the summer sun on the horizon, local charity, Grace Kelly Childhood Cancer Trust are planning a wonderful outdoor evening event on Saturday 24th June from 6pm to 9pm for all the family to enjoy. A Midsummer Night's Adventure, kindly sponsored by Square Metre Group, will be held at the beautiful Spetchley Park Gardens in Worcester.
Coralie Hudson, Organiser and Fundraiser at the Trust, said: "We are really looking forward to our big summer event. It's going to have a lovely family festival vibe with lots of activities to enjoy. Spetchley Park Gardens is a magical place of its own and we've decided to add a little more sparkle for our community."
Guests can enjoy street food and drinks at the Ladybird Food Fest, shopping at the Midsummer Market, forest school activities from Forest Families, music from Pippa Langhorne, Worcester Rock Choir and more, stilt walking and a circus skills workshop with Code Red Entertainment, face painting and glitter, a fairy trail, outdoor games including a Human Fruit Machine thanks to the Droitwich Lions Club, a chocolate tombola, raffles, and of course the opportunity to explore the stunning grounds. And rumour has it that a special guest might also be paying a visit!
Tickets are £30 for a family (two adults and two children), £12 for adults and £6 for children. Tickets are available to purchase from www.gkcct.org/midsummer
The Trust receives no statutory funding so wholly relies on supporters to help them raise the £500,000 they need each year to fund their vital services and make a difference to the lives of children fighting cancer.
The Trust funds research in to rare and aggressive childhood cancers, educates families and clinicians about the signs and symptoms of childhood cancer and produces medical information booklets to explain to parents and children about the treatments they are facing.
The charity also provides financial, practical, and emotional support to local families through their family support service, giving families a listening ear and support at the time when they need it most.
For more information, please go to  https://www.gkcct.org email fundraising@gkcct.org or call 01562 885777.