Gabby's Dollhouse, meet Gabby and her friends. Gabby loves cats, cooking and pretending…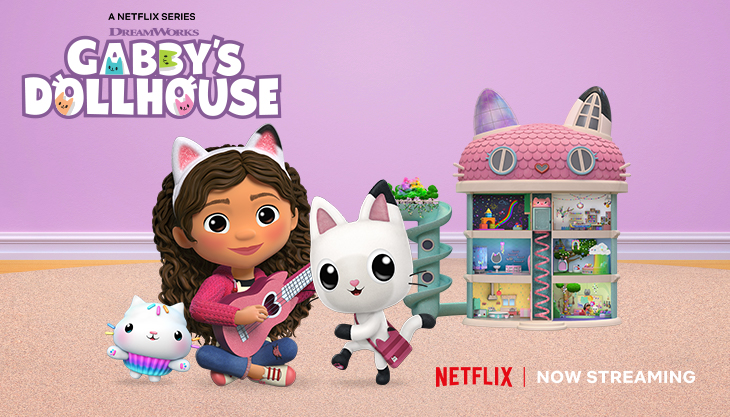 Meet Gabby, a positive, determined kid who's not afraid to be herself! She loves cats, cooking, pretending, and of course, being with all of her friends.
With a little magic and a new surprise every day, Gabby's Dollhouse is filled with mini-worlds, irresistible kitty characters, and super fun adventures! Join Gabby as she unboxes a brand new surprise every episode, shares her excitement with her pal Pandy Paws, and takes everyone on the next great adventure as she gets into silly situations, makes unforgettable memories with her best friends, and embraces any mistakes along the way.
Since the debut of DreamWorks Animation's hit series Gabby's Dollhouse, kids around the world have been having one big sprinkle party with their new friend Gabby and all her kitty friends. Created and executive produced by celebrated storytellers Traci Paige Johnson and Jennifer Twomey, Gabby's Dollhouse is a mixed media preschool series that unboxes a surprise before jumping into a fantastical animated world full of adorable cat characters that live inside Gabby's dollhouse. Rooted in growth mindset, Gabby's activity-based episodes encourage flexible thinking and learning from your mistakes.
Following its launch in 2021, the show has charted as a top 10 kids' series in 89 countries and has become one of the fastest growing brands in the preschool space, inspiring an award-winning toy line, publishing, home, apparel, and more, as well as original music, a top-rated app, a growing YouTube channel visited by millions of fans weekly, interactive fan experiences across the globe and much more.
Any adventure can unfold when we play in Gabby's Dollhouse, now streaming on Netflix.