12 Reasons to Step Outside this Spring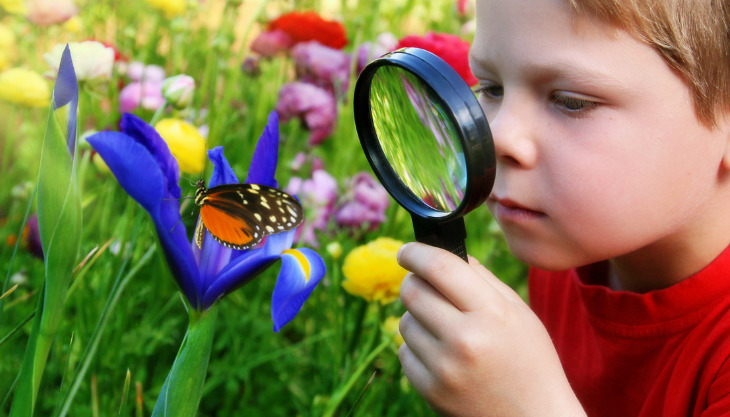 1. Water Fun
Have a water fight! You can pick up some cheap water pistols, use water balloons or even sponges.  It's always best to set rules or it will end in tears eg have a 'dry' area, or call it a game of tag, where you are on if you get squirted. If it all gets too much, then head to one of our local parks for more organised water fun.  The Splash Pad at Chester-le-Street's Riverside Park is a fantastic way to spend a sunny day and is open daily during school holidays and weekends. Alternatively, there are miles of shallow coastline to paddle in and beaches to explore.
2. Ride a Bike
There's nothing better than freewheeling it in the sunshine. If you're looking for somewhere safe and flat for children to ride, then Hamsterley Forrest has a great driveway for whizzing up and down (perfect for learning to ride without stabilisers too). For an easy ride try one of the local disused railway lines which have now been turned into cycling trails. The Sunderland to Consett Railway Path is a 26 mile route that is perfect for breaking up into smaller rides; keep an eye out for the artwork and sculptures along the way. There are more details on Sustrans website.
3. Have a Picnic
We all long for lazy lunches outdoors during the better weather, but who knows what the weather will have in store for us! It would be nice if we could tick at least one picnic off our list wouldn't it!
Wallington Hall is a favourite picnic spot, with its two play areas, trees to climb, ducks to feed, woods to explore and much more to keep you busy all day.  Hardwick Park is another good spot and even has a built in BBQ if you want to glam up your picnic. If all else fails and the weather is a wash out, put a rug on the floor in the house and have an indoor picnic on proper plates!
Click here for lots more suggestions for places to picnic.
4. Fossil Hunt
With miles of fabulous beaches on our doorstep, our coastline is the perfect place to search for ancient fossils. We love searching for rocks, shells and fossils at Seaham's Blast Beach and between the piers at Roker. Slightly further afield, Redcar beach is mostly suited to children, with lots of rolled fossils and fragments, all in a safe environment.
5. Geocaching
If you haven't tried the outdoor craze that is geocaching, then now is the time to start. GEOCACHING is a free real-world outdoor treasure hunt. Players try to locate hidden containers, called geocaches, using a smartphone or GPS and can then share their experiences online. It's a fantastic way to get the kids walking – without them really noticing, and there are caches hidden everywhere. Barnes Park, Herrington Park, Castle Eden and the coastal path between Whitburn and South Shields are good places to start.
6. Hunt for Mini Beasts
All sorts of beasties lurk in the woodlands, grasslands and wetlands of Rainton Meadows. Spot dragonflies, skylarks, hares, voles and many more species. There's a great bug hunter's spotting guide you can download from the Woodland Trust website. Pack a magnifying glass and your wet wipes and head for Gibside or WWT Washington. Look out for Nature Nuttery days at Washington Old Hall where you can learn about bugs and beasties in their natural environment.
7. Watch it Grow
Whether you have a garden, allotment or just pots and window boxes, gardening can be a fun activity for the whole family. Encourage your child to choose packets of seeds then help them to plant and take care of them as they grow. Create an edible garden with lettuces, tomatoes, herbs and spring onions which are all easy to grow for beginners. Or plant yourself a butterfly garden. Lavender, Honesty or Sweet Rocket planted in a sunny spot will encourage butterflies to your garden to feed or even breed.
8. Build a Den
Hamsterley Forest is a great place to build a den; there are always long branches lying around to lean against the huge trees. Kielder Forrest Park and Gibside (National Trust) often run den building sessions over the school holidays where children and adults can join in together (watch out for those competitive dads who want to build the biggest and the best!)
9. Bird Watching
If you're new to bird watching then WWT Washington is a good place to learn. This is a great location to see birds all year-round but spring sees herons, lapwings, Hawaiian geese and other exotic birds. It's hard to believe that the nature reserve is only 5 miles from the centre of Sunderland! There are regular walks with wardens, commentated talks and a huge activities programme for children of all ages. Souter Lighthouse, Rainton Meadows Nature Reserve and Holy Island are other ideal spots.
10. Paddling
Children love exploring rock pools and with adult supervision this can be educational, safe and lots of fun. Our favourite spots are Marsden Beach (great for exploring caves too) and the rocks at Whitburn Beach – just grab your fishing net, bucket and some sensible footwear and get exploring. Away from the coast, Derwent Country Park near Rollands Gill is the perfect place to picnic and paddle. There is a play park and near a shallow part of the river where the water trickles by making it safe for toddlers.
11. Pond Dipping
Beneath the calm surface of a pond lives a fascinating world of creatures. Head to Elba Park, Houghton le Spring, grab a net and dip it into the water to see some of these amazing creatures for yourself. Also, enjoy pond dipping at WWT Washington in their state-of-the-art Pondzone area.
12. Explore Our Local History
The North East has so much history to explore dating back to the Romans, Anglo-Saxons, The Normans, Victorians and beyond. A trip to Hadrian's Wall or one of the Roman settlements such as Vindolandia or Arbeia is a great way to get children reimagining the past. Or for more recent history, Beamish, Preston Park Museum, National Glass Centre or Cragside are well worth a visit. For more ideas of how to discover our local history CLICK HERE.