Bike Riding for you and your family!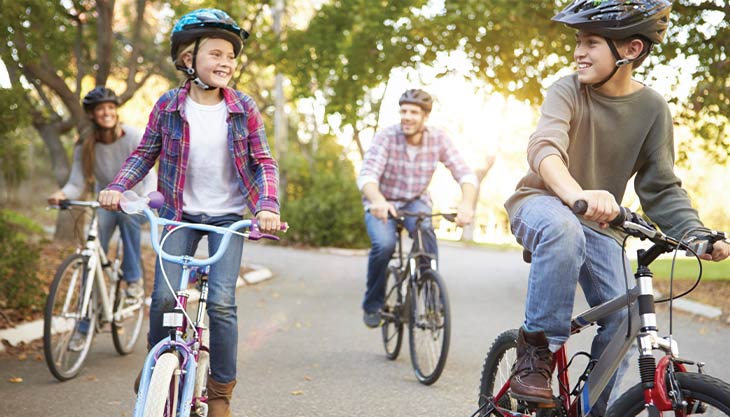 Getting outside
A lot of us have bikes. But most of them stay in storage, where they'll most likely be for the rest of their usable years. With modern busy roads, many of us just don't feel safe enough to go out with our families on bike rides. But that doesn't mean we have to feel this way.
The pandemic brought many families into the outdoors with activities such as bike riding and family walks etc. Though it's great now we're allowed back inside to have family days indoors, like with trips to the cinema, what about those poor bikes that have been returned to storage never to be touched again?
Bike riding is a great way to stay healthy and explore your local areas, whilst building lasting memories with your family. It allows you to discover new places that can't be found in a car or would be deemed too far to walk.
Bike Maintenance
Basic maintenance can be carried out by an amateur cyclist. However, any complicated maintenance should be left to a professional. Children also need a well-tuned bike as they do not have the strength or dexterity to deal with equipment that is not running optimally. It is important that you and your families' bikes are properly maintained to ensure optimal safety. Therefore, it is encouraged that you reach out to a professional mechanic to check all your families' bikes are safe to ride. They will have the appropriate knowledge, tools, and parts for the task.
Bikebook

We recommend using Bikebook to easily find bike services in your local community.
Bikebook is an online platform created by two brothers and a best friend, who are all passionate cyclists. It allows cyclists across any discipline to find the best local mechanic, wherever they are in the UK. It is the easiest, fastest, and most transparent way to have a bike serviced or repaired while allowing cyclists to save money and support their local bike mechanic. The platform's main aim is to promote bicycle safety.
Ensuring your bicycle is regularly maintained is important to help prevent accidents and improve rider safety. Cycling can be dangerous, the last thing any cyclist wants is a misshaped wheel when riding downhill or a chain coming loose on a busy road. Having a well-maintained bicycle reduces these risks, as the fault can be found and mitigated before becoming a problem.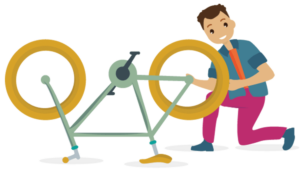 Bikebook offers a variety of different services depending on your needs, their cheaper bronze packages cover smaller issues like deflated tyres or a squeaky chain. They recommend you use this service once every 6 months or so. Their Silver and Gold plans are for more extensive issues or if you haven't used your bike in over a year or so.
As with any mechanical device, prevention is better than cure. Below are some examples of why a bike service like Bikebook is cheaper than repairing a malfunction:
A high standard chain can cost between £40-£50 but a 6-monthly bronze service will cost on average less than that plus some added bonuses!
A poorly maintained group set (the cranks, derailers and cassettes) can easily cost over £200 to get replaced. Keeping these components healthy through servicing can extend their life 5 or even 10-fold. A high standard of service such as gold service can seem expensive, but that short-term expenditure would be a worthwhile investment.
Brakes on bicycles have evolved to using disc brakes and pads, instead of the more outdated cartridges. It is essential to check that the pads are compatible with the wheel rims.
A buckled wheel due to poor maintenance can not only cause serious physical damage to the rider but also a hefty bill. Looking after wheels is vital for riding to be safe and fun.
Find your local mechanic here.
Staying active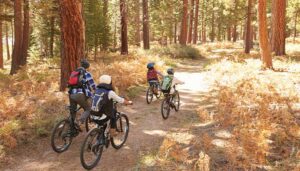 After making sure everything is in order for a safe ride, cycling is a great way to connect with your family, stay active and, most importantly, have fun!
Bike Riding can be enjoyed by all ages, whether it's your toddler sitting in their chariot watching the world go by, or even trying their legs at a trailer or testing their wheels with their own adjustable bike, there are ways for the whole family to get involved.
But, making sure things are fun for all ages depends on the route you decide to take. Make sure that your planned route is suitable for all ages. Things become boring if they're done for too long, make sure that if you've got little legs joining you out on your adventure, they'll be able to keep up and not get too tired along the way.
Many areas offer cycling routes that you and your family are free to use, but if you'd rather stick to pavement, as many of these routes go a little off the beaten track, make sure you know what roads are busy and make sure you have a point to meet up at if people take a wrong turn.
Before you head out make sure you know your terrain, not too hilly for those who aren't strong riders and not too bumpy for those unsteady on their wheels. Check the latest weather before heading out, rain can lead to very messy, very difficult rides.
Great for the Environment
Family bike riding is much better for the environment than driving a car and is great for your family's physical and mental health.
By introducing children at a young age to the excitement of bike riding we can help encourage a new age of environmentally friendly travel. Bikes cause little sound pollution and are powered solely by you, so getting more people to make their trips around town on a bike as opposed to a car is better for the planet and the community.