See Santa in Hereford and Worcester in 2022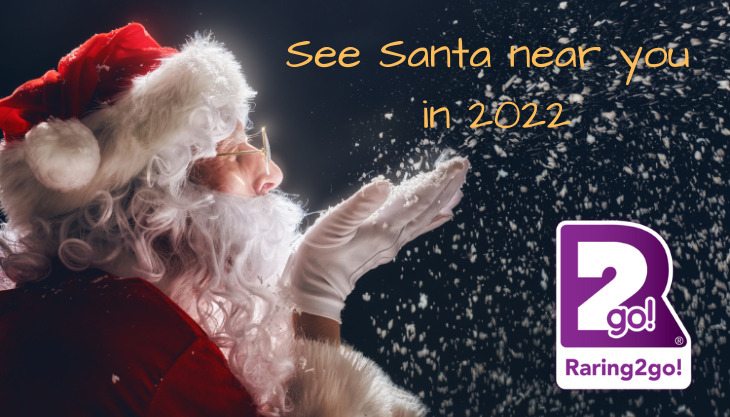 See Santa in Hereford and Worcester in 2022
See Santa near you in 2022!
Are you looking for Santa's grottos in Hereford and Worcester this year? Look no further! Here's our handy round-up of where Father Christmas will be.
Top Tip: Check out your local primary school's websites, because Santa may well be visiting their Christmas Fair!
You can see Santa in Hereford and Worcester at…
Atwell Farm Park B98 9DB. Booking required. Father Christmas and the Winter Barn Workshop. Be greeted by the head elf who will check the naughty and nice lists for your name. Meet Father Christmas in his grotto, and if you made the nice list, choose a toy from his toy shop. There is also a Teddy Bear Workshop, for those not wishing to visit Santa. Price : Santa visit: Child ticket £14.95, under 2's £8.00, Adult £6.95. https://attwellfarmpark.co.uk/events/christmas/
Cob House Country Park WR6 6YE. Booking required. Visit Father Christmas and his reindeer.  Visit Santa in his cosy cabin, go through his magic wardrobe into the toy shop and choose a toy.  Visit him any weekend up until  23rd December. Price: £11.95 per child.  You can also book to breakfast or have tea with Father Christmas. https://cobhouse.org/upcoming-events/
Crumplebury Farm WR6 5SG. Booking required. 17th December 3pm – 9pm. Wrap up warm and head through the woods following the magical trail to find Santa's grotto.  Enjoy a meeting with Santa, where each child will receive a gift. Price: £30 https://www.crumplebury.co.uk/event/christmas-for-the-kids/
Enchanted Kingdom HR1 2DT. Booking required. The Grinch Live Show & Santa's Grotto Experience. Booking required. Running from 3rd – 24th December, this fantastic 30-minute show is followed by a visit to Santa. Price: Child ticket £15, under 5 with gift £5, under 5 without gift: free. Adult ticket: £12. Additional booking fees apply. Further information and bookings here. https://www.enchantedkingdomhereford.co.uk/
Forge Mill Needle Museum B98 8HY. Booking required. Father Christmas Fridays. Visit Santa in his Christmas grotto, have fun with the Christmas craft activities, and complete our festive trail. Price £5 per child. https://www.forgemill.org.uk/web/events/#event02
Hartlebury Castle DY11 7XZ. Booking required. 3rd & 4th December A Family Christmas – meet Mother Christmas and visit Santa too.  Enjoy the Nutcracker trail and festive activities. Price: child £6.50, adult £11.50.  Sing-along with Santa – enjoy a warm drink and sweet treat, and join Santa as he reads The Night Before Christmas and leads some festive singing. Children receive a gift. Price: entry ticket plus £6 per child. https://hartleburycastle.com/events/ 
Hereford Garden Centre HR4 0SE. Booking required. There are 2 options to see Santa from 3rd December – Breakfast with Santa or visit him in Santa's Grotto. Price: Breakfast with Santa from £13.95 per ticket. Santa's grotto £10 per child. For information and to book  https://www.bluediamond.gg/christmas-events-2022
Kingfisher Shopping Centre B97 4HJ. Booking required. This year, the experience will take visitors through a themed 'Sorting Office' where children can partake in activities such as: reindeer riding classes on reindeer hobby horses, present sorting at a giant present machine, interactive wall games, helping Santa's delivery service by riding in kid-friendly vehicles and interactive queue/floor games. Once ready, guests can then enter our immersive grotto where they meet the one and only Santa Claus! Children will be able to collect a present before heading over to our Christmas card craft area. Price: £6 per child. https://www.kingfishershopping.co.uk/news-events/santa-s-sorting-office/
Little Owl Farm Park DY13 9SS. Booking required. Magical Christmas Grotto – ticket price includes admission to the park, admission to the show, festive craft activity, a gift (children choose their own in the Elf Toy Shop) and sweet treat for the little ones, and a warm festive drink for the adults. New this year – our first-ever Christmas Show with Mrs Claus and her elf Twinkle. Price: Child £25.95, under 1 (includes gift) £12, Adult £14.95, Senior £14.95.  Discounts available for members.  https://www.littleowlfarmpark.co.uk/whats-on/christmas/
Madley Environmental Centre HR2 9NH. Booking required. Visit Santa in his magical woods! Listen to a story with an elf and enjoy creating some Christmas crafts.  When: 2nd & 9th December at 4.30 pm. 3rd & 11th December at 3.30 pm or 6 pm.  Price: Child tickets £9.50, adults £2 – tickets include a hot drink & biscuits, and a gift for children. Information and bookings here. https://mesc.org.uk/
Oakchurch Farm Shop HR4 7NH.  Booking required. Santa arrived on 19th November and will be at Oakchurch Farm Shop every Saturday & Sunday, and in the week before Christmas, he will be there on weekday afternoons too. Price: Free but a £5 refundable deposit is required to book.  The Hereford Lions Club has ensured Santa will be at Oakchurch this year – your booking deposit would make a great donation to Hereford Lions Club if you can spare it! More information about Santa at Oachchurch is here. https://www.oakchurch.net/
Radway Bridge Garden Centre HR1 3RX. Booking required. There are 2 options for seeing Santa at Radway Bridge Garden Centre – Santa's Grotto, and Breakfast with Santa. Santa's grotto is open every Saturday and Sunday until 18th December from 11am – 3pm. Price: £7 per child, accompanying adults free. For more information on Santa's grotto, and to book, here. https://www.radwaybridgegardencentre.com/activities/55/christmas-grotto Breakfast with Santa – Santa will visit you at your table while you enjoy a delicious breakfast. Tickets are £10, with a limit of 2 adults per child. You can breakfast with Santa on the following dates in December: 3rd, 10th, 17th, 19th, 20th, 22nd and 23rd. Information and booking here. https://www.radwaybridgegardencentre.com/activities/41/breakfast-with-santa
River Wye Activity Centre HR3 5NW. Booking required. Meet Santa, decorate a gingerbread man, and see the Elf on a Shelf's party room. Throughout December: from 3rd – 18th. Price: From £10 per adult, £12 per child, £40 for a family of 2 adults, 2 children – plus booking fees.  Book your tickets here. https://www.eventbrite.co.uk/e/santa-visits-glasbury-house-tickets-441494480877?aff=ebdssbdestsearch
Severn Valley Railway DY10 1QX. Visit to see Steam in Lights, Enchanted Express.  Book the Santa Train: Meet Christmas characters at the Kidderminster station, then travel by steam train to Arley for our festive pantomime. Ticket price includes a sweet treat, drink, and for children a premium gift and festive activity book. Prices vary depending number in party. https://my.svr.co.uk/events?view=list&k=santa_train&startdate=2022-11-26
St Michael's Hospice HR1 4HA– This one is so lovely and so popular, sorry, but it's already sold out!
Three Counties Showground – Winter Glow. WR13 6NW. Booking required. There is an array of things to choose from at this year's Winter Glow, including the Personalised Santa Experience. Price: From £45.50 – £48.50 for the first child with accompanying adult, with further child tickets between £16.50 and £18.75. Further adult tickets (no gift) are £14.75 https://winterglow.co.uk/
West Midlands Safari Park DY12 1LF. The ultimate Santa experience for your little ones! A helpful Elf will greet you in the Discovery Trail, and take you to the sleigh – to take you to Santa's Grotto! There you will meet Santa – and a helpful Elf will take a picture of you all together!  After meeting Santa, you can visit the Elves Workshop where the children can pick their own present. You can even ride the Virtual Reality Santa Sleigh Ride!  For full details and to bookings click here. 
Your local Lions Club brings Santa to you!
Santa will coming to a street near you!
Worcester Lions Club have announced their route and dates – you can find them here.
Hereford Lions Club will be accompanying Santa in his sleigh around Hereford city again this year – you can find details here.
Is Santa going to be anywhere else this year? Have we missed any?
If you know of anywhere else we can visit Santa in Hereford and Worcester this year, please let me know so that I can add the details here and share the magic.  It's certain to get you on the nice list! Just email me the details herefordandworcester@raring2go.co.uk