A Magical Christmas Season at Raby Castle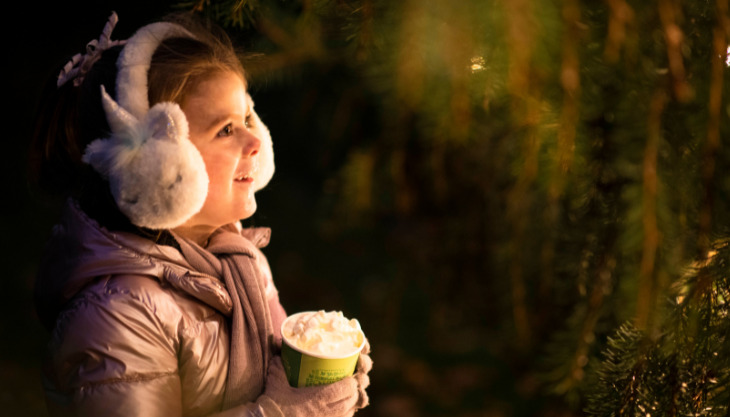 Raby Castle is preparing to celebrate all things Christmas with its selection of festive experiences.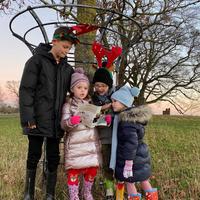 For a merry outdoor experience against the majestic backdrop of Raby Castle itself, a new themed trail will be introduced this year, as The Plotters' Forest – the new woodland hideaway playground – is transformed into a winter wonderland. With the familiar sounds of Christmas music in the air, visitors will need to get their detective caps on to find the hidden Christmas clues – and earn themselves an extra treat. The Christmas trail will also come alive at night illuminated under the dark skies.
Those who are looking for a winter adventure can also explore Raby's Deer Park which will be hosting a 12 days of Christmas trail – included in the admission price.
For the first time, Raby will be offering a Christmas shopping evening in its newly located Stables Shop in Hunters Yard. Featuring beautiful gifts, stocking fillers and Raby's own produce, visitors can make a start on their Christmas shopping. Taking place on Friday 11th November with free entry, Raby Castle will be transformed into a winter wonderland during the shopping evening and Father Christmas himself might even make a special appearance at the portcullis gates. The Yurt Café will also be open so shoppers can refuel with a delicious hot chocolate or a mug of mulled wine.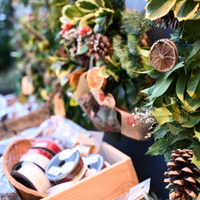 A Christmas market on Saturday 3rd and Sunday 4th December will showcase festive gifts and delicious treats from local suppliers and visitors can also purchase one of Raby's very own Christmas trees which have been grown especially for the festive season on the estate's plantation.
Sophie Brown, events manager at Raby said: "Christmas at Raby is a such magical time of year and we love watching our visitors enjoy the festive celebrations here – whether they're picking up a Christmas tree to take a piece of Raby home with them or spending quality family time together enjoying our outdoor trail."
Raby has also extended the festivities at the Estate's High Force Hotel and Waterfall with a Find a Raby Reindeer trail. Included in the admission price and running from Saturday 26th November until Sunday 31st December, families will need to wrap up warm on this wintry walk as they collect the Christmas clues, from snowmen and stars to bells and holly, on the woodland trail. The waterfall route has also recently been extended into the woodlands where a series of intricately carved and thoughtfully designed woodland sculptures have been placed along the walking route for families to discover – from a moon-gazing hare and an observant owl to a beautiful fox and a giant caterpillar.  Afterwards guests can cosy up by a roaring fire in the hotel and tuck into a hearty Teesdale lunch.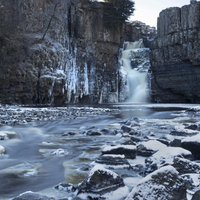 High Force Hotel will also be introducing a delicious festive menu throughout December – perfect for a catch up with friends or colleagues – and will be open on Christmas Day so the family cook can hang up their apron and not worry about the stress of Christmas lunch.
For those looking for a seasonal escape, the hotel will be offering a cosy winter waterfall stay and bookings made between 28th November 2022 and 26th February 2023 can enjoy three nights for the price of two by using the code WO22. With exclusive access to Raby Castle's Deer Park and High Force Waterfall included in these bookings, visitors can head out on a wintry adventure before heading back to the hotel to warm up in front of a roaring fire and enjoy dinner in the stunning Garden Room.
Raby Castle and High Force gift vouchers will also be available to purchase – ideal for those who are on the lookout for that special Christmas gift this year – featuring a selection of different experiences including stargazing suppers at High Force Waterfall, afternoon teas with access to Raby Castle's stunning Deer Park and overnight stays at High Force Hotel.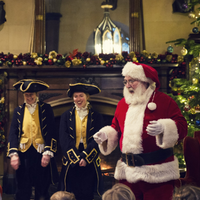 All of Raby's Christmas celebrations will begin on Saturday 26th November and run on selected dates until Saturday 24th December at Raby Castle, and Saturday 31st December at High Force, and tickets to all events are now available to book.
Tickets to Raby's Deer Park cost £5.50 for an adult, £4.50 for concession, and £3.50 for a child. A family ticket is priced at £17 and under fours are free.
Tickets for the daytime trail at The Plotters' Forest cost £6.50 for adults and £7.50 for children at selected times between 10am and 2pm. This includes the use of The Plotters' Forest play equipment, Christmas trail and a special treat for the children plus access into the Deer Park anytime in between 10am and 4pm.
Tickets for the night-time trail at The Plotters' Forest cost £4 for adults and £6 for children at selected times between 4pm and 6pm. This includes the Christmas trail illuminated at night and a special treat for the children. Please note these tickets do not include play.
For more information about Raby Castle's Christmas activities and to book tickets, visit www.raby.co.uk/high-force/whats-on/
A small entrance fee of £2.50 for adults (16+) and £1 for children (5-15) is required to access High Force Waterfall. Under 5s are free. For details, visit: www.raby.co.uk/events/high-force-waterfall/
Pre-booking at the High Force Hotel and its restaurant are essential as numbers are limited. For more information and to book, visit: www.raby.co.uk/high-force/hotel/