Raring2go Harrogate and York magazine is for sale!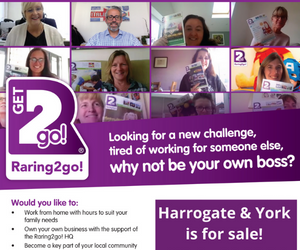 Raring2go! Harrogate and York magazine is for sale. My last edition as editor will be Summer 2023, but I need someone to take over the reins as editor to ensure that the best of 'what's on' and 'where to go' still gets to all our readers and our social media followers.
This is an opportunity to buy a franchise of the Raring2go brand, specifically for the Harrogate and York area (which covers from Northallerton to Ilkley, Pateley Bridge to Pocklington).
It is a fantastic little business that has been brilliant since I bought it in 2018 and has bounced back really well after the Covid pandemic. There is a great team of editors and supportive HQ.
You don't need to have design skills or a journalistic background to edit the magazine, you just ideally need to live somewhere in the North Yorkshire area and be happy talking to people!
This was my first franchise purchase and my first time becoming self-employed after leaving a full time teaching role and I have never looked back! Now that my children are getting older, I am moving on to something slightly different, still using the self-employment skills I learned through running Raring2go.
The editor role can be a part time one, that would take up between 2 and 3 days a week.
For more information, email harrogateandyork@raring2go.co.uk or call 07974196816.
I look forward to hearing from you!