Play-Doh's House of Messy Parenting Experience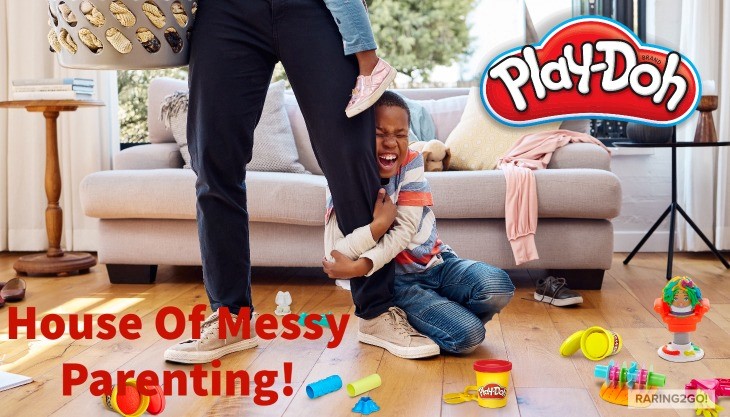 Research by Play-Doh, the pre-school brand, reveals parents are under more pressure than ever before to be 'perfect'   
The Play-Doh team is launching Parenting is Messy – a new campaign that celebrates the honest, unspoken truths about parenting, kicking off with the launch of its first ever book, Notes on Messy Parenting 
Featuring Ferne McCann, Vogue Williams, Ade Adepitan, 'H' from Steps, and more. Notes on Messy Parenting aims to show the light-hearted reality of parenting – in all its messy glory!
Filled with anecdotes, daily dramas and ball drops from well-known parents in the UK, Notes on Messy Parenting is available to read and download free, from Thursday 22ndSeptember
Physical copies of the book will be available at the House of Messy Parenting, a Play-Doh event, on Saturday 1st October and via prize draw at www.playdohmessyparenting.com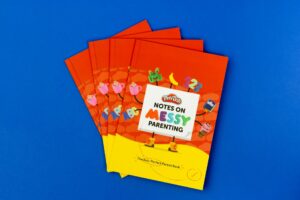 22nd September 2022: Play-Doh, the much-loved pre-school brand, has today launched its first ever book for Parents, Notes on Messy Parenting, as part of a new campaign which is seeking to celebrate the honest, unspoken truths about parenting.
Research shows:
As a brand that embraces mess and dislikes instructions. Its new Parenting is Messy campaign comes in direct response to research that has revealed  that 67% of parents feel an overwhelming pressure to be a 'perfect' parent. With 41% stating they'd received unsolicited or unrequested parenting advice from others.
65% of parents stated that they feel overwhelmed and bombarded by the amount of advice and 'parenting ideals' that are out there. With the sources most attributed as the cause of said pressure including social media (72%), other parents (46%), family members (40%) and even friends who don't have children (34%).
With 65% agreeing that social media presents a 'glamorised' version of parenting. Versus the warts and all view of being a real life parent, readers of Notes on Messy Parenting – which is available to view and download free, from today – may welcome the open, honest, and often hilarious anecdotes from its thirteen contributors.
The list of contributors offering tales of parenting fails, worries, and messy mishaps includes:
TV personality and presenter, Ferne McCann; Steps singer, Ian 'H Watkins; presenter and podcast host, Vogue Williams; TV presenter and Paralympian medallist, Ade Adepitan; and journalist, author and popular blogger, Anna Whitehouse.
As part of its wider Parenting is Messy campaign. The brand will also be hosting the House of Messy Parenting – a one-off, free event in London. Which takes place Saturday 1st October. Promising a guilt free zone to embrace messy parenting. The event will provide a chance for parents to come along, share and smile at the daily dramas and inevitable ball drops. Whilst the kids get creative with some Play-Doh messy play. All attendees will walk away with a physical copy of Notes on Messy Parenting, as well as Play-Doh products for the kids.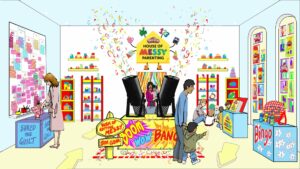 The brand is also encouraging parents across the UK to submit their own messy parenting stories and hang-ups online, In exchange for prizes for both kids and adults. This can be done via the campaign website. Where parents can see their guilt virtually shred away. Or by using the #PlayDohMessyParenting hashtag across social media.
Nicola Fox-Haggarty, Commercial Director @ Hasbro UK and Ireland, said: 'As a brand that embraces mess and imagination without instructions. Parenting is Messy is all about celebrating the less polished moments in people's lives as parents. Our Play-Doh products aim to fuel the kind of creative thinking. Which can help us all inspire a better future. Encouraging learning, creating, and imagining freely without judgment is at the head of this campaign.
She continued: "Whether you're laughing at one of the stories in Notes on Messy Parenting, Or sharing your own messy mishap via the campaign hashtag, or physically shredding your parenting guilt at our House of Messy Parenting. We hope to provide a small, light-hearted way in which parents and caregivers can hopefully get rid of some of that pressure that is worryingly higher than ever before across the UK."
Play-Doh is hosting a one-off, free event. Play-Doh's House of Messy Parenting experience in London next week for families to attend. It's a place for parents to embrace the messy side of parenting, guilt-free. Whilst revelling in the daily dramas and inevitable ball drops of parenthood, all whilst the kids are kept occupied.
What:

Play-Doh's House of Messy Parenting experience

 
When:

1st October 2022 at [insert timings]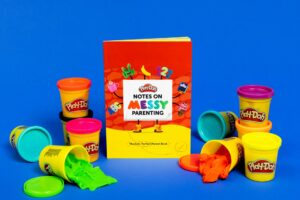 Where:

62 Southampton Row, London WC1B 4AR

 
Booking link

:

 

HERE
Cost

: Free 
Notes on Messy Parenting is available to read and download, free, at www.playdohmessyparenting.com from Thursday 22nd September.
To book your free tickets to House of Messy Parenting, the Play-Doh event, head to www.playdohmessyparenting.com
Do you love Play-Doh? For a chance of winning 1 of 10 Play-Doh sets! Click here to enter…