New Adventure Trail launched at High Force Waterfall
A new exploratory trail has been introduced at a local natural landmark to encourage children to engage with nature and see the benefits of outdoor play.
Situated within the North Pennines Area of Outstanding Natural Beauty (AONB) and UNESCO Global Geopark, the new woodland experience forms part of the circular waterfall route at High Force Waterfall.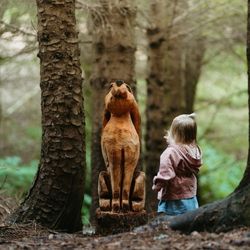 Woodland creatures to discover in the woods!
Created by talented wood carvers, a series of intricately carved and thoughtfully designed woodland sculptures have been placed along the walking route for families to discover. From a moon-gazing hare and an observant owl to a beautiful fox and a giant caterpillar, the majestic woodland creatures have made their homes in the magical woods close by to the waterfall.
Children can also climb onto a giant's chair, discover a living bug hotel – which has been created by Raby's estate ranger, Andy Gibson – and spot a selection of bird boxes in the trees.
A magical woodland adventure
Families can pick up a complimentary activity sheet upon arrival which encourages children to engage their senses on this magical woodland adventure – listening to the sounds all around them and witnessing the delights of nature in this landmark location.
Claire Jones, head of leisure and tourism at Raby Estates, said:
"High Force Waterfall is a spectacular natural landmark with a fascinating history and incredible setting, and we're incredibly proud of the new experience we've incorporated.
"We hope the new trail provides families with an engaging and immersive way to experience this area, encouraging them to think about the important wildlife habitats it supports, and providing them with fun ways to interact with this stunning landscape."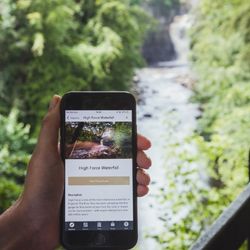 NEW Raby Estates app
A new Raby Estates app has also been created to enhance the overall visitor experience at High Force Waterfall and the surrounding area.
Users can discover local walking routes via an interactive map, create their own bespoke tour of the waterfall walk by filtering different points of interest including wildlife, geology and landscape plus history and art, and can also locate nearby facilities including food outlets, motorhome stopovers, picnic areas and toilets.
An itinerary function is also available via app, enabling visitors to plan their day, and ticket links for upcoming events and special offers can be accessed as well.
Claire continued:
"Whilst we're highlighting nature in our new woodland trail, we also appreciate the integral role technology plays in our everyday lives – which is why it feels like a great time to introduce our new visitor app.
"Using this state-of-the-art functionality, we aim to bring to life this landmark and provide our guests with as much information as possible at their fingertips. We want this app to complement and enhance their overall experience, so they get as much out of their visit as possible."
The Raby Estates app is available to download for free via the App Store.
A small entrance fee of £2.50 for adults (16+) and £1 for children (5-15) is required to access High Force Waterfall. Under 5s are free.
For details, visit: www.raby.co.uk/events/high-force-waterfall/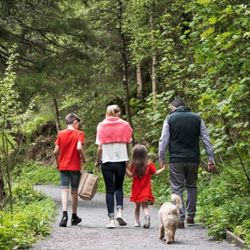 High Force Hotel & Waterfall
Also part of the Raby Estate, just 30 minutes' drive from Raby Castle and situated within the North Pennines Area of Outstanding Natural Beauty (AONB) and European Geopark, is the spectacular High Force Waterfall. Just a stone's throw from this magnificent natural landmark and miles of country walks through scenic Upper Teesdale is High Force Hotel, a rural retreat with 10 individually styled en-suite rooms and a warm welcome. Famous for its Sunday lunches and daily menu which showcases seasonal produce from the Raby Estate.
Raby Castle
Raby Castle is set in acres of undulating parkland in the heart of the beautiful Durham Dales in County Durham. The Castle was built in the 14th century and was home to Cecily Nevill, mother of two kings of England. It was also the scene of the plotting of the Rising of the North and a Parliamentary stronghold during the Civil War.
Today, Raby is the seat of Lord and Lady Barnard and the Vane family. Visitors can visit the Castle, Deer Park and The Plotters' Forest Adventure Playground. Online booking is advised through the website.
The Deer Park is open daily, 10am – 4pm. The Castle is open seasonally. The dog friendly Yurt Café and Stables Shop are open daily to the public, and visitors do not need a ticket to visit these areas.