Our visit to Matrix Hereford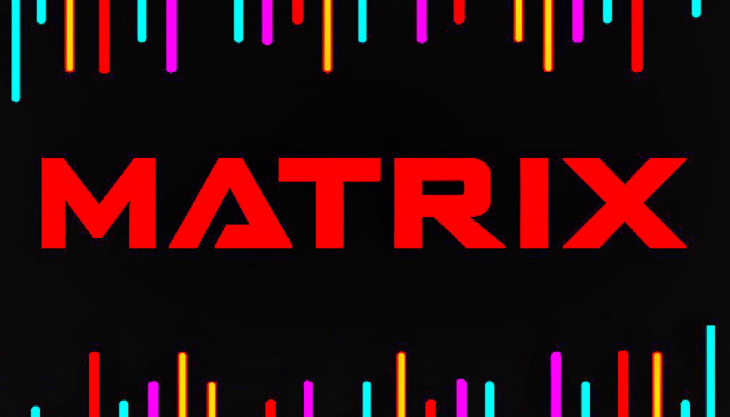 We visited Matrix Hereford, situated in the centre of Hereford (Eign Gate) to see how family-friendly it is, and were really impressed!  It has something for all ages, so the entire family can visit and everyone is entertained, whatever their age.  You can just call in to play on the arcade or for a drink, ice cream or snack.  You do need to pre-book activities.  The great news is you can currently get money off – just quote code raring2go when booking online, for a 10% discount on all activities!
Our visit to Matrix Hereford:
We strolled into the bright clean cafe area, you can just call in for some really reasonably priced slushy drinks, coffee, and 'the best ice cream ever' (as voted by all in our party who tried it). At these prices, you could treat the kids more than once.  The cafe is in the arcade area – with air hockey, and a few other games suitable for any age.  A group of teenagers were playing on the basketball hoop shoot out, while we played air hockey.  Top Tip: get your kids collecting 2p coins, as there are a few slot machines they can use those on. There is a change machine on site – but getting your younger kids earning some pocket money in 2p coins will give them a sense of the value of money and allow them a greater sense of independence.
Just up a ramp we passed the axe throwing area – this looks great if you have older kids with you. The axe throwing is set up to be safe and fun, you only need strength to hold and throw a regular axe (and as its ramped access you can do this in a wheelchair too), but there does have to be a responsible adult in the party.  Axe throwers need to be age 12+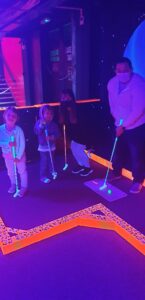 Upstairs we played the indoor golf – the artwork and lighting is so much fun, all glow in the dark which the kids really enjoyed! The 18-hole course is fun for all ages, with the tiniest clubs for the littlest players! The younger ones just had fun hitting the ball around and getting it in the hole (and with the raised sides on each hole their ball couldn't accidentally stray from one hole to the next, so they had freedom to play ahead); the adults were keener to do it in as few shots as possible – and we did even have one player get a hole in one!
During our visit to Matrix Hereford we had a sneak peek at the laser tag, which looks great!  Again, glow in the dark, with music, sirens, and a fog machine, the atmosphere is exciting and fun.  In the foyer of the laser tag area, where team briefings take place, you can watch the action happening inside the arena on screens.  The laser guns are state of the art, lightweight (though you need to use both hands to hold and fire), and there is no need to wear vests. This would be a really fun party, group or team building activity.  Or simply a fun family activity.  Younger children may find this area a bit scary – the recommended age range is 8+. If you are thinking of going as a group of adults, Matrix is licensed to serve alcohol – and it would be the ideal venue for a fun hen or stag party!  There are party rooms upstairs, and you can choose laser tag parties, or mini golf parties, and the party room is a fun space, with pong pong tables too!
Access: There is unfortunately no lift access to the upper floors, but the arcade, cafe area and axe throwing are accessible to wheelchairs.  The wheelchair accessible toilet is directly in front of the door to the toilets, so no difficult hallways to navigate, and there is plenty of room for wheelchair user and assistant.  While they do not have adult changing places facilities, the nearest is at Old Market, Hereford, just a few minutes walk away.
The other toilets are single stall with their own hand wash basin, perfect for parent and child to use together.
If you wish to visit Matrix Hereford, the nearest car park is on West Street car park, Hereford just behind Matrix.  There are no disabled bays in this car park.  Further car parking information can be found here.  By Bus: The main bus station at Bewell street (Tesco) is a 3 minute walk, through to Eign gate.
You can simply call in to Matrix Hereford for the arcade and cafe.  All other activities have to be booked.  Quote 'raring2go' for 10% discount!