Kangaroo Beach – New Water Safety Awards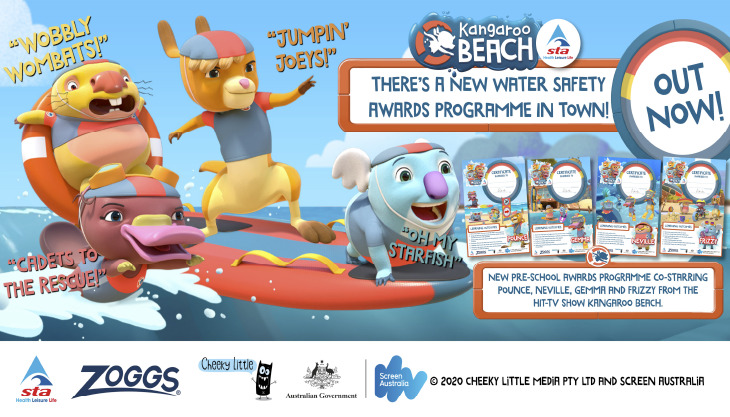 THERE'S A NEW WATER SAFETY PROGRAMME IN TOWN FOR KIDS!
A new water safety programme for pre-schoolers has been launched across the UK. Supported by the STA, a national body for swimming, Kangaroo Beach is based on the antics of four young animal friends who star in a pre-school TV series from Australia. The four animated furry friends share an action packed summer of surf, fun and sand, all the time delivering water safety messages.
Following the UK premier of Kangaroo Beach on Nick Jr. last year and its debut on Milkshake this summer, STA has launched a brand-new Kangaroo Beach / STA water safety awards programme for pre-schoolers. This first-of-its-kind education programme is also supported by Zoggs and Kangaroo Beach co-branded swimming accessories, including goggles, swim toys and learn to swim devices.
Kaylë Brightwell, STA's Head of Qualification Development, who has developed the water safety awards programme using Kangaroo Beach's colourful characters, said: "With drowning being one of the leading causes of accidental death in children, we know that teaching children (and their parents) about water safety from an early age is so important. For STA, its therefore fantastic to have a TV show air in the UK that is focussed on delivering positive water safety messages in a fun and engaging way to pre-schoolers."
"As a mum too, I know TV is an incredibly powerful educational tool, and Kangaroo Beach is a fantastically scripted show, which we are not only proud to support, but to also bring to life in the swimming pool this year through our new water safety awards programme," added Kaylë.
Kangaroo Beach is already a huge hit in Australia, where the show first aired late in 2020 and is fast becoming known as "Baywatch for kids" thanks to its exciting mix of edge-of-your-seat rescues and its loveable cast of characters – joey Pounce, a wannabe-hero lifeguard, platypus Gemma, a mini-marine biologist, wombat Neville, an expert sandcastle digger, and koala Frizzy, an all-singing, all-dancing, all-fabulous triple threat!
The new water safety awards programme features four awards that are based around the main characters. Each award incorporates age-appropriate water safety and swimming skills, and includes key water safety messages that been highlighted within episodes of Kangaroo Beach.
Nick Jr. currently airs Kangaroo Beach on weekdays at 19.00 – 19.15 and weekends at 18.30 – 19.00, and from 18th July, the show will air on Milkshake! at 7:35am weekdays.
Hop on over to your local swimming pool and ask about the new STA / Kangaroo Beach water safety programme.
STA / Kangaroo Beach Water Safety Awards – Learning Outcomes, what your child will learn:
Neville Award
This award focuses more on the water safety rules and an introduction to the skills to incorporate Neville's cautious side.  Ideal for new swimmers or younger preschoolers.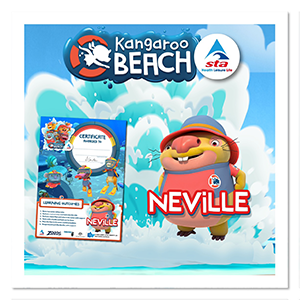 Frizzy Award
Incorporating Frizzy's climbing skills and love of dramatics, this award enables swimmers to show off their water safety skills.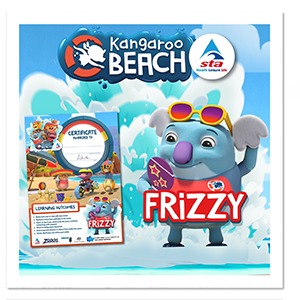 Pounce Award
Pounce is an energetic and active character, and the skills within the award are more active / physical – ideal for those who already have lessons or are slightly older preschoolers.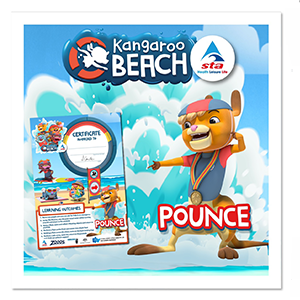 Gemma Award
This award focusses on Gemma's love of marine life and the environment, and includes animal friendly skills.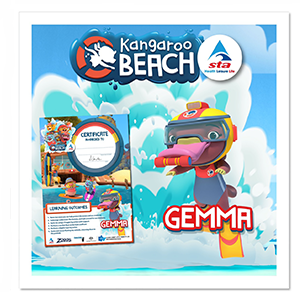 All swimming teachers delivering this programme will be following STA's lesson plans, games and ideas for songs – and on successful completion of each award, students will be presented with a colourful Kangaroo Beach certificate.  
About Kangaroo Beach
The show invites pre-schoolers to join them as they train to become junior cadets with their lifeguard heroes and keep the water safe at Kangaroo Beach. Under the guidance of grown-up lifeguards Bondi, Sandy and Big Trev, these friends gain critical water safety skills that will help keep themselves and other beachgoers safe.  Behind the scenes, professional lifeguard Bruce Hopkins, who stars in the Australian TV show Bondi Rescue, and Ironman champion Craig Riddington have provided essential water safety advice for the series.
Kangaroo Beach is produced by Cheeky Little Media (Kazoops!, Bottersnikes & Gumbles), with a writing team including Charlotte Rose-Hamlyn, Simon Dodd, Sam Carroll and the series creator Tim Bain (Thomas & Friends, PJ Masks, Bluey, Fireman Sam).
Cheeky Little Media's Executive Producer, Patrick Egerton said: "We're enormously proud of Kangaroo Beach and we hope kids and parents in the UK enjoy watching it as much as we've loved making it. From our early development of the concept with creator Tim Bain, through all the stages of production, this has been a truly positive experience with everyone sharing the same goal – to make a pre-school show with appealing characters, plenty of action and plenty of heart, which playfully reminds us about water safety. We now look forward to elevating the programme even further in the UK through our partnership with STA and Zoggs."
Dave Candler, STA's CEO added: "As a national governing body for swimming, and a charity dedicated to water safety education, we are delighted to be an official partner of Kangaroo Beach, and we absolutely support the positive messaging their shows deliver to playfully remind little ones about water safety. We can't wait to make a bigger splash with the new Kangaroo Beach branded water safety awards programme in our 90th anniversary year!"
Mark Hammersley, Zoggs' VP HEAD Swimming, comments: "We built our brand through educating parents and children on the fun and enjoyment that learning to swim brings, as well as it being a vital life skill. As an Australian brand working alongside Kangaroo Beach was a no-brainer to us, the bright playful characters sharing water safety messages in relatable ways aligns perfectly to the Zoggs approach to learning to swim."
Swimming is known as an exercise that can help with your mood. Click HERE to read more