Raring2go! Reviews The Plotters' Forest at Raby Castle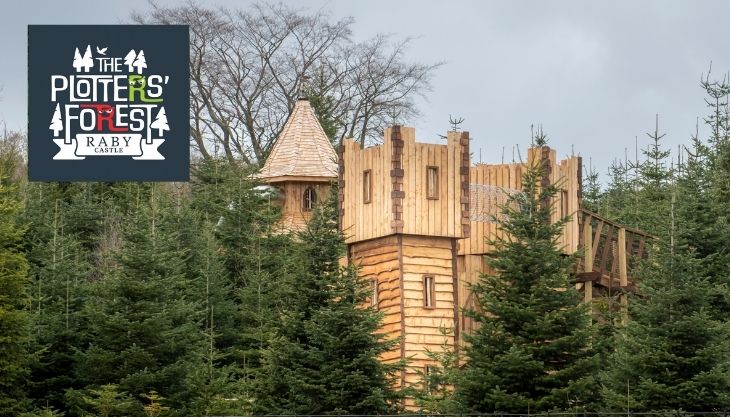 Raring2go! Reviews The Plotters' Forest at Raby Castle…
A magical experience with hidden surprises in the treetops!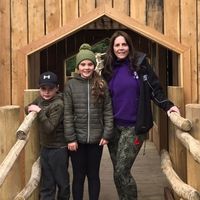 Amy Graham our Northumberland Editor, her two Raring2go! Reporters Isla & Louis and myself were very lucky to have a preview of Raby Castle's new and highly anticipated adventure playground, The Plotters' Forest, which opened to the public on Friday 15th April.
The new adventure playground is a short 5-minute walk from the carpark, set amongst the trees in the castle's Christmas tree planation, the playground offers an exciting mix of adventure, discovery & challenge for families.
Touch, smell & feel the trees
We loved how it has been so thoughtfully constructed around the trees, with the minimum removed, you are literally in the heart of the forest! You can touch, feel & smell the trees, which combined with the wooden construction materials and textured floors, some of which you can see through, makes for a very multi-sensory experience.
Castle inspired design
The castle & it's heritage has clearly inspired the design with high turrets, gothic windows & arched doors. Even the activities such as the matching pairs game are Raby themed, nothing has been forgotten!
Lots to explore
Lots for families to enjoy as they explore the maze of walkways including slides, tunnels, balance bars and stepping stones. Plus sky high turrets with panoramic views, climbing nets & walls. A pair of magical speakers allow children to communicate secret messages to their fellow plotters on the floor below!
For a breather between the exertions there is a large matching pairs game & an outsize colour coded musical xylophone which two children can play together, it even has a colour coded musical score so children can play a couple of tunes!
Little Rebels area for toddlers
Toddlers are not forgotten and have their very own "Little Rebels" area, with mini castles, slides & chalkboards. Some nice log "stools" close by for parents to perch on, which would be ideal for forest story telling.
Snacks & stargazing
The Plotters' Pantry, which will serve takeaway hot and cold drinks, freshly made sandwiches, snacks, cake and ice cream conveniently overlooks the toddlers' play area. The top deck of the café also doubles up as a stargazing platform.
We really loved …
Amy, Isla & Louis:
"We all really enjoyed our afternoon exploring The Plotters' Forest, it's been very cleverly designed with lots of hidden surprises tucked away. I love how it's been built within the trees as it feels truly magical. The kids had lots of fun, they especially loved the bridges between the trees, Isla said she felt like she was in the treetops!"
Alison:
"The playground is beautifully designed and very much feels at one with it's surroundings, lots of thought has obviously gone into the planning, with every detail considered to make this an exceptional adventure playground and enjoyable for all ages from preschoolers to grandparents! Walkways are non slip and accessible for pushchairs and wheelchairs. Adults will just love taking a break from their exertions and relaxing with a coffee & the views from the cafe deck! I especially loved the smell & feel of the trees & wood, Christmas at Raby Castle is always fabulous, looking forwards to see how Raby's creative event's team incorporate the The Plotters' Forest into this years festive experience!
The Plotters' Forest is a fabulous addition and combined with the castle & deer park to explore as well there is so much to fill a family day out at Raby Castle now ​​so make sure to arrive early!"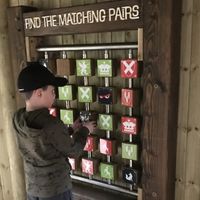 The Plotters' Forest is now open, tickets are available from the website: https://www.raby.co.uk/raby-castle/play/. 
Thank you to Raby Castle for inviting us to explore The Plotters' Forest.
Reviewed by Alison Nelson, Editor of Raring2go! Co Durham & Darlington and Amy Graham, Editor of Raring2go! Northumberland. With thanks to our Raring2go! roving reporters and playground testers Isla & Louis Graham!
Further Information
Tickets Prices for the Park & Plotters' Forest cost: £8 for adults, £7.50 for children and £29 for a family ticket. A concession ticket is also available at £7.
Prices for Raby Castle, Park & Plotters' Forest cost: £13 for adults, £10 for children and £45 for a family ticket. A concession ticket is also available at £12.
The wooden boardwalk through the playground is accessible by wheelchair and pushchair, creating a fun and inclusive space for all of Raby's visitors.
For further information, please visit: www.raby.co.uk/raby-castle/play/.