WWT Washington hatches its first common crane chick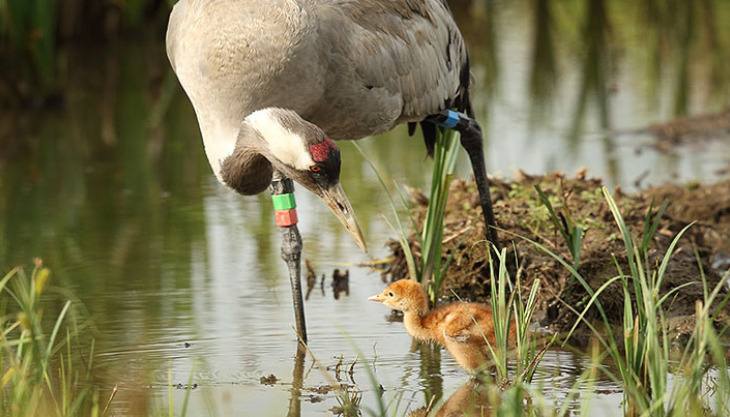 Wearside's WWT Washington Wetland Centre is celebrating the arrival of a tiny common crane chick – an incredible first in its 46-year history.
The youngster hatched on Monday evening (9 May) under the careful watch of its protective parents, who have been part of the centre's animal collection since 2008 and not successfully bred until now.
The pair came from WWT's headquarters in Slimbridge, Gloucestershire, in the early stages of the pioneering Great Crane Project, which has now seen the common crane successfully reintroduced to the UK to record levels.
The exciting news of their first chick follows months of nest building, prospecting and laying low towards the back of the centre's stream channel exhibit, where they finally laid and incubated their precious egg.
WWT Washington's collections team kept a close eye on the nest and monitored the first-time parents' behaviour to ensure things went as smoothly as possible – which thankfully they did.
Collection manager, Rhys Mckie, said: "We're unbelievably thrilled to see our common cranes become parents for the first time. And it's even more thrilling that this pair of cranes came from the Great Crane Project.
"The adults have been here since they were just one year old, arriving in 2008; so at the age of 15, this is a pretty big moment for them and for us all.
"Visitors may have noticed that the cranes have been less visible lately – something that happens every spring for this pair. But this year we're so pleased to see they have been successful with their breeding efforts."
The new family is currently off-show to allow them time to bond in a protected environment and enable the team to closely monitor their health and behaviour.
"While there are still hurdles this family has to get over, we're giving them the best possible chance to thrive," added Rhys.
"They're doing all the right things and are bonding as we would hope, so we're keeping our fingers crossed that everything continues to go smoothly for this very special species, with visitors hopefully able to see them back in their enclosure this summer."
DID YOU KNOW?
With their astonishing trumpeting call and dramatic courtship dance, common cranes are a truly iconic wetland species. Standing at an impressive 4ft, they are the UK's tallest birds.
They were once plentiful and widespread in the UK, but were lost as a breeding species around 400 years ago as a result of hunting for food and the subsequent draining of their wetland nesting sites.
Cranes are members of the "Gruidae" family – a very ancient bird family that has been around for about 40 million years.
Despite having characteristics of the heron and stork families, cranes are actually unrelated to these birds and are much more closely related to moorhens and coots.
Common cranes rarely breed before they are four years old, and it may take several attempts before they succeed in rearing a chick.
They were once frequent fixtures at medieval feasts. Henry II's chefs cooked up 115 of them at his Christmas feast in 1251.
 In 2010, the Great Crane Project – a partnership between the RSPB, WWT and the Pensthorpe Conservation Trust, and funded by Viridor Credits Environmental Company – was set up to create and improve existing habitat, as well as hand-rearing young birds for release on the Somerset Levels and Moors.
This conservation effort has yielded impressive results, with around 56 pairs known across the UK in 2019. Of these, up to 47 pairs attempted to breed that year and raised 26 chicks. The total population is now believed to be more than 200 birds – a new record.
Find out more about WWT's involvement in the incredible Great Crane Project here