The Raring2go! Altrincham & Sale Sunflower Competition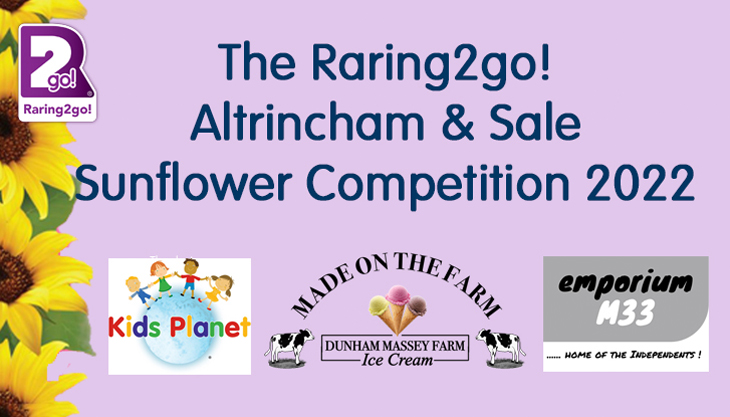 Here at Raring2go! we love sunflowers! They are super happy and lots of fun to grow! We love sunflowers so much that we have decided to bring back the Raring2go! Altrincham & Sale Sunflower Competition for 2022.
To enter all you need to do is buy a packet of sunflower seeds and get growing! Send us regular updates of your flowers as they grow from little seeds into garden giants! We will post regular updates on Facebook and Twitter, plus feature the best pictures in our Summer and Autumn magazines.
Prizes will be awarded for the tallest sunflowers when the competition closes on 31st August.
Thank you to our sponsors Kids Planet, Dunham Massey Farm Ice Cream and Emporium M33 for helping us to provide seed packs and competition prizes.

How to enter:
1. Plant some sunflowers seeds at home.
2. As your sunflowers develop send us your pictures each step of the way to show us their progress and to be entered into our monthly prize draw​​​​​​.
3. As your sunflower starts to grow tall let us know how it is doing and how big it is! We will track the biggest flowers with regular posts on our Facebook page!
4. Final measurements to be submitted by entrants by 31st August 2021.
How to grow your own sunflowers
You will need:
Giant sunflower seeds
Compost
Plant pots or plastic cups
Large plant pots or a spot in the garden
Step 1 – Put some damp soil in a plant pot so it comes up almost to the top. Then poke your finger in the soil to make a hole for your sunflower seed.
Step 2 – Drop a sunflower seed into the hole. Cover it with a little soil. Spray or sprinkle some water on top.
Step 3 – Put the cup on a sunny windowsill. You could plant a seed in some more pots too if you like, to see which one grows best. Spray the soil with water whenever it feels dry.
Step 4 – Your plant should pop up through the soil after about 1 or 2 weeks. You can now start measuring how much it grows each week.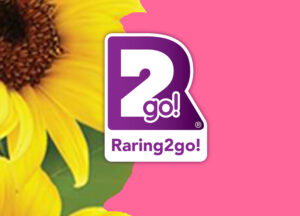 Step 5 – When your plants grow too big for the pots, plant them in bigger flowerpots or in a sunny spot outside in the garden. Be sure to plant them at least 15cms apart to help the roots grow.
Step 6 – Your plants should flower after about 8 weeks.
Don't forget to send in your pictures and measurements as they grow to us at: altrincham@raring2go.co.uk.
If you tweet us or tag us in a Facebook post, use hashtag #R2GSunflowerComp to make sure we can find you.
Terms & conditions  
We welcome entries from anywhere in the world. However, only entrants based locally to Altrincham & Sale are eligible to win a prize. Therefore, only measurements submitted from entrants in within a reasonable distance of Altrincham & Sale will be entered for consideration as a prizewinner.
Entrants must have submitted their final measurements by 31st August 2022, and entries must be accompanied by a photograph of the sunflower entry.
The editors decision on the prize winner is final.
By submitting your images via a Raring2go! social media channel, or by e-mail you are automatically consenting to being shared on Raring2go! social media and print within the magazine.
Should you wish to withdraw your consent, please e-mail us at: altrincham@raring2go.co.uk with the details of your image and we will remove any social media posts. Please note, any images included within a printed magazine cannot be removed.