Explore the North East with Treasure Trails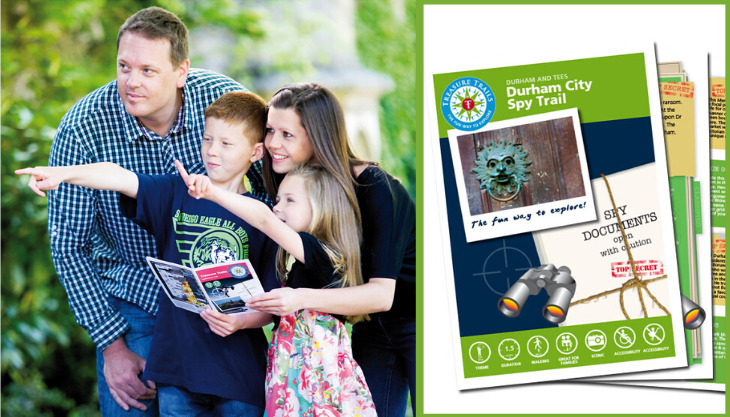 Step outside and re-discover a world of fun and adventure with Treasure Trails.
Suitable for the whole family, Treasure Trails are a challenge that combines mind-twisting clues and fascinating stories for anyone with a sense of adventure. So, whether you're a young detective, budding spy or an adult who never grew up, solve the clues and uncover the secrets on a self-guided adventure trail.
How does it work?
First, choose a trail; there are more than 1,200 to choose from in the UK. Then follow a self-guided Treasure Trail through the winding backstreets and hidden corners of villages, towns and cities. Each trail makes use of well-known local landmarks, signs, statues, monuments, images, engravings or any other unique or eye-catching features to create an exciting adventure.
Crack the clues along the route to unlock incredible stories from the past and solve the mystery at the end. Before you know it, you've walked a couple of miles, taken in the highlights, put your heads together as a family and returned home with a massive smile on your face!
Treasure Trails in the North East
With more than 50 routes to choose from across the North East, you are never far from a Treasure Trail. Routes include Seaburn to Whitburn Coast, Newcastle Quayside, Durham City Spy, The Amble Scandal and Hartlepool Historic Headland. To make the trail even more fun, each route has a theme; there are Treasure Hunts, Spy Missions, Murder Mysteries and more.
How Much
Treasure Trails cost £9.99 for the downloadable and print at home version or £11.48 (including p&p) for the posted version.
Find Out More: treasuretrails.co.uk
---
Raring2go! Reviews:
North East Review
After weeks of lockdown, we were all excited to venture a few miles from home for a chance to stretch our legs and get some fresh air. We picked a sunny weekend and after dragging the kids away from their screens, set off for Durham City Centre.
We downloaded the trail before setting off and read the backstory; the residents of Durham were unhappy as their favourite sweets were being changed to taste like vegetables! It was our job to track down the gang responsible. Starting and ending in the Market Place, our clues led us to various landmarks around the city centre, with the aim of eliminating suspects and the weapon used. We only got stuck once but luckily the trail allows you to text HQ and they text you back the answer within seconds. You can do this three times.
The trail said it would take 2.5 hours to complete and that's exactly what it took us. We were really surprise that we'd walked 2 miles without realising as we were so keen to solve the next clue. We can't wait to try out another trail, perhaps in an area that we know less well.
Review by: Vicky Norman, Editor of Raring2go! Sunderland
Midlands Review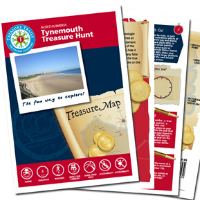 "With the sun shining on a Saturday afternoon we thought this was the perfect time to try out one of the trails from Treasure Trails UK. The information on the website suggested that it would take us around 2.5 hours and this was probably a fair estimate – we took a little longer but were in no hurry to rush the children through the section that took us through the park and also made a pit stop for ice cream part way along.
We all enjoyed the afternoon, the clues ranged in difficulty with some needing us to spot something within an image in the trail booklet to others that were a little bit more cryptic. My children (aged 8 and 12) could have done most of it without any adult help once they got going with plenty of excitement as they were racing to search for the next clue (as long as yours are able to read the directions and understand the clues they should be fine).
In total we walked around 2 miles and there was no complaining from any of the smaller people at any point! We did choose to do our trail in a town that we know fairly well but this didn't make the clues easier to find as they tend to be based on letters within signs/ notices etc. We did all agree though that it would be a great way to explore somewhere new, perhaps on a weekend away or a day trip."
Review by: Nicola Maile, Raring2go! Editor