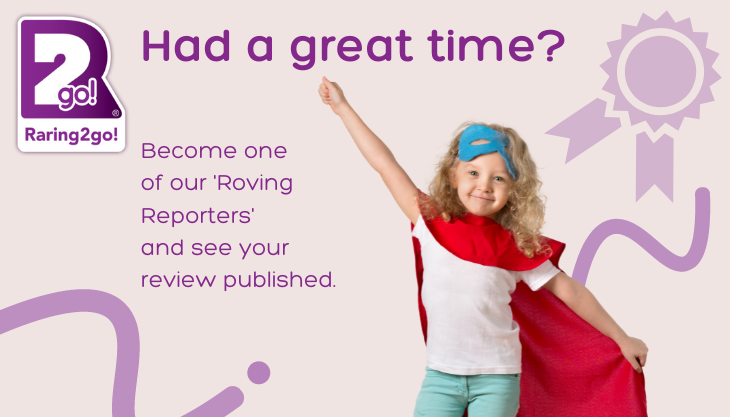 Raring2go! roving reporters Needed!
Our roving reporters let us know all about the best days out, places to go and things to do.
Kids – have you been to a brilliant show, taken part in an awesome activity, or visited a fabulous farm park?  Maybe you have just read a great book? We love to share news of the very best places to go and things to do – but we need your help!
If you have had a great day out, a brilliant birthday party, or tried a cool new class, capture those memories and send me a little review about it, because others would love to know about it
Just tell me where you went and what you liked best, and you could be in with a chance to win a great Raring2go! Roving Reporters prize!  If you aren't sure where you would like to go, there are loads of ideas on the website here, and in our what's on guide too.
All of our roving reporters will receive a certificate and sticker as a thank you for sending in their review. The top Roving Report will also receive a prize AND be published in the next Raring2go! Hereford and Worcester magazine.  Just imagine – your report and photo could be featured in our next magazine!
It's really easy to be a roving reporter, but you will need permission from a parent or guardian first.
How to be a Raring2go! roving reporter
Ask a parent or guardian if they are happy for you to be a roving reporter. Then just send me details of the activity you did, the party you went to, or the place you visited.  Let me know the date you went there, and please also include a photo of you there, along with your review.  The maximum length we can publish is 200 words. Don't forget to give me contact details for your parent of guardian because if you win, I will need to contact them before publishing your review.
I'm really looking forwards to hearing all about your awesome adventures – maybe yours will be featured in our next magazine!
Please email your review and photograph, along with your parent or guardian's telephone number, to  herefordandworcester@raring2go.co.uk