Perfect Places To Picnic in The North East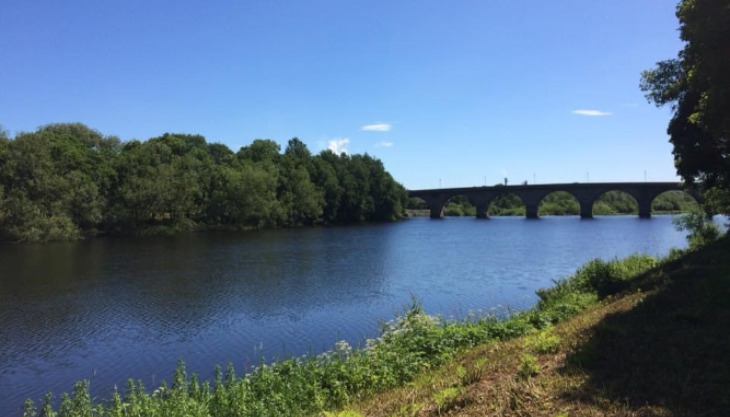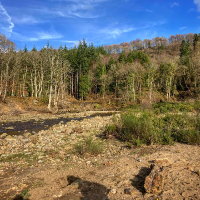 There is nothing better on a sunny day than chucking the kids, the dog and a picnic basket full of goodies in the back of the car and setting off somewhere for the day. Here in the North East we are very lucky to be near so many amazing outdoor spaces.
Northumberland
Allen Banks & Staward Gorge, Bardon Mill, NE47 7BP. Parking and toilets (although last time I was there which was in December they were closed). Enjoy your picnic at one of the tables or there is plenty of space for blankets on a large grassy area before you take a stroll along the river bank and explore the various paths.
​​​Bolam Lake, Ponteland, NE20 0HE.  A nice flat easy walk around the lake and there is a cafe and toilets available too.
Beaches of the beaten track!  We have so many beautiful beaches to choose from!
Annstead Dunes (between Seahouses and Beadnell) – NE67 5BT
Warkworth Castle (combine it with a visit to the Castle too) – NE65 0SW
Cambois (just North of Blyth) – NE24 1RN
Druridge Bay & Country Park – NE61 5BX
Seaton Sluice (the chippy in the village comes highly recommended) – NE26 4JZ
Plessy Woods, Bedlington, NE22 6HZ. Picnic tables, play area and toilets are all located by the car park, then enjoy a stroll through the woods following the trail of wooden carved animals.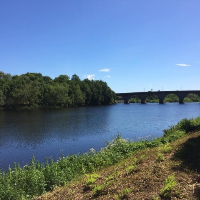 Rothbury Riverside, NE65 7QR.  Picnic tables, public toilets and small children's play area all close to the car park. Enjoy a walk along the river.
The Bowling Green, Hexham, NE46 3SG. There is something very tranquil about sitting in the Bowling Green with it's manicured lawns and perfected flower beds. With benches all the way around the park making it a lovely spot to sit and enjoy some lunch and get some vitamin D on your face.  The Sele Park is just over the wall has a large section of play equipment and a skate park too. Then enjoy a stroll back through the Abbey Grounds and explore the bandstand. Don't forget a visit to Mr Wolf is a must when in Hexham and if you fancy an ice cream there is a lovely little shop on St Mary's Chare called Molly Moos. Another one of our favourite picnic spots in Hexham is Tyne Green, NE46 3SG. With it's huge grassy area, picnic tables, large play park and a lovely river walk it's a hit with all the family!
Sunderland and Surrounding Areas
Barnes Park, Sunderland SR4 7PY. The large grassy area next to the entrance to the park (next to the car park and toilets) is the perfect spot for a picnic. There's lots of space to spread out your picnic mat and for young children to run around, whilst older children can head to the nearby play areas. There's even a café selling snacks, drinks and ice creams.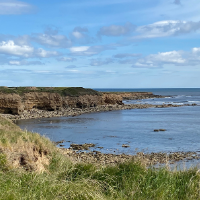 Cleadon Hills, South Shields, NE34 8EQ. If you want to combine your picnic with a relatively easy walk, great views and some local history then Cleadon Hills is just the spot. On-street parking is available on 'The Lonnen' then follow the trail past the water tower and on to the windmill taking in the panoramic views and the fields of wildflowers.
Gypsies Green, South Shields, NE33 2LD.  A beautiful open grassy area with views over the sea and direct access to the beach. There are numerous car parks along the Coast Road and public toilets are nearby. Minchellas is nearby for ice creams and drinks and there's even Colman's Seafood Temple if you're still hungry for fish and chips after your picnic!
Herrington Country Park, Penshaw, DH4 7EL. Being one of the areas largest parks means there's plenty of space for everyone, even on a busy summer's day. With miles of paths to walk and tracks to cycle, families can spend hours at Herrington Park. There's onsite carparking, a play area, ducks to feed and a nearby café. A visit to Herrington Park can also be combined with a climb up Penshaw Monument.
Penshaw Monument, Penshaw, DH4 7NJ. If you like to work up an appetite for your picnic, then a climb up the 136m high hill to the monument will ensure you've earnt your picnic. Once at the top, the views are spectacular and you can even book a slot to climb the 70ft monument. On the way back down, stop off at the Penshaw Tearoom and Farm Shop for a cold drink.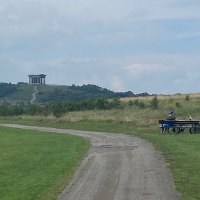 Roker Beach, Roker, SR6 0PP. The sandy beach between the piers at Roker is a lovely spot, perfect for building sandcastles, paddling in the sea or playing beach games. There's plenty of parking, toilets, a small play area and a choice of cafes for ice creams, cakes and drinks (Love Lily and Fausto Coffee are our favourites). If you want to stretch your legs then either take a walk along the pier, walk round the marina or if the tide's out, walk along the sand to Seaburn and Whitburn.
The Slope, Seaham Marina, SR7 7EE. Nicknamed 'The Slope' due to its gentle fall down to the sea, the beach beside Seaham Marina is an absolute gem. The sandy, sheltered beach and shallow waters makes it perfect for children to play and it's a great place to bring a paddleboard or kayak if you lie water sports. Nicey Icey at The Waterside sells lovely ice cream and there are lots of other cafes for drinks and snacks. The small car park does get busy so park at the top of the hill and walk down.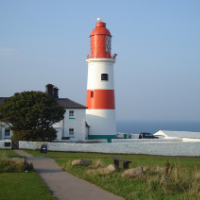 Souter Lighthouse and The Leas, Whitburn, SR6 7NH. The area around Souter is stunningly beautiful on a clear day and it's another great place to work up an appetite before your picnic. There are a few picnic benches by the lighthouse and a small children's play area and cafe, alternatively walk in any direction along the clifftops until you find a grassy spot to spread out your picnic blanket. There are two National Trust carparks near Souter (free to members) and more car parking at Marsden, South Shields or Seaburn.
South Marine Park, South Shields, NE33 2NL. Marine Park is one of our favourite meeting spots when we are catching up with friends. The large, grassed area next to the play areas is ideal for picnics and ball sports and kids love waving at the miniature train each time it passes. In addition to the large play area, there's a boating lake, swans and geese to feed, take a trip on the miniature train, get a Minchellas ice cream or explore North Marine Park. If you've still got energy, then cross the road to Ocean Beach fairground and the sand dune-backed beach.
Whitburn Coastal Path, South Bents, SR6 7NT. Park at Minchellas carpark, cross the road and find a spot on the clifftops overlooking Whitburn beach. After your picnic either follow the cliff path north in the direction of Souter Lighthouse where you'll see beautiful views, wildflowers and Sand Martins flying in and out of their nests in the cliffs, or south onto the sand at Whitburn beach.
County Durham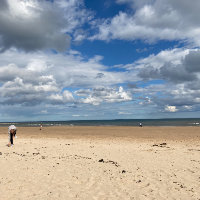 Allensford Country Park, Consett DH8 9BA. Free parking and toilets (although these are currently being refurbished so are currently closed). With a choice of river walks, places to paddle, a huge grassy area and lots of picnic tables makes Allensford a popular picnic spot. If you don't fancy packing the picnic up, the cafe offers a huge selection. You can even order a takeaway picnic box – Cafe at Inn on the Park. The brand new play area is now open too!
Derwent Reservoir, there a several picnic spots dotted around the reservoir but our two favourites are Pow Hill, Edmundbyers, DH8 9NU. Lots of picnic areas to choose from, with gorgeous views of the reservoir or within the secluded woodlands. There is sign posted shorts walk and plenty of trees to climb!  Or on the other side of the reservoir is Millshield Picnic Area, DH8 9PT where you will find picnic benches & public toilets.
Finchale Abbey, Durham, DH1 5SH. Situated on the banks of the River Wear, there are lots of beautiful picnic spots to choose from. There are a few picnic benches next to the car cark and the river is shallow enough to have a paddle. Alternatively, cross the bridge to the other side of the river and take a walk through the woods where you'll find secluded picnic spots by the river. After your walk, cross back over the river and explore the ruins of the abbey – it's a great place for hide and seek! There are toilets and a small café too.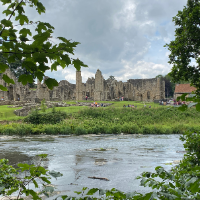 Riverside Park, Chester-le-Street, DH3 3PL. A large, open park on the banks of the River Wear with lots of space for picnics, ball games and for kids to run around. There's car parking, a play area, splash pad, toilets and usually an ice cream van. From the park, it's an easy walk along the river in either direction following the river-side path which continues for miles.
Newcastle / North Tyneside and Gateshead
Big Waters Country Park Brunswick Village, Newcastle NE13 7BD. A beautiful lake surrounded by a network of paths and mature woodland. It is abundant with birds and wildlife, and is a peaceful spot for a picnic.
Havannah and Three Hills Nature Reserve Hazlerigg, Newcastle NE13 9AA. A thriving nature reserve with a network of paths through lovely countryside and woods with a lake and small streams.
Tyne Riverside Country Park, Grange Rd, Newburn, Newcastle upon Tyne NE15 8ND. A wildlife haven with spectacular views of the River Tyne and lovely long walks. A good play area and lots of sports facilities.
Watergate Forest Park, Whickham Highway Lobley Hill NE11 9RQ. Opened in 2000 from reclaimed colliery site, a series of trails and paths take you through woodland, around the lake and through wildflower meadows. Can you spot the sculptures?
Saltwell Park, East Park Road, Gateshead, NE9 5AX. Saltwell Park is one of Britain's finest examples of a Victorian park. With play areas, a maze, pet's corner, bowling, tennis, basketball, a pond and vast green spaces with stunning views, it's the perfect place for the whole family to enjoy.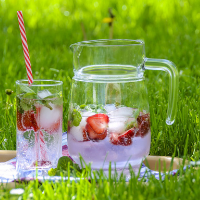 Rising Sun Countryside Centre, Whitley Road, Benton, NE12 9SS. 162 hectares includes a nature reserve with ponds, woodlands and extensive grasslands; a farm and Countryside Centre; children's play area and café. The site is a haven for wildlife and an ideal place to relax and enjoy the great outdoors.
Jesmond Dene, Newcastle NE7 7DZ. This park has everything you need for a day outdoors. Pets Corner, woodland paths, the Ouseburn, complete with waterfalls and bridges, spacious picnic areas and direct links to Paddy Freemans and Heaton/Armstrong Parks with play areas.
Exhibition Park, Claremont Rd, Newcastle NE2 4PZ. A beautiful park with lots of variety offering  lots of play equipment, tennis courts, a pond, café, Wylam Brewery pub with outdoor seating area, miniature railway (occasional operation), plenty of space for picnicking and immediate access to the Town Moor for longer walks.
Wherever you choose, have a lovely day and if you have a favourite place to picnic let me know and we will add it to the list!