7 outdoors activities for the entire family
Have you thought about how to keep the children entertained? Be it indoors or outdoors, here you can find a list of hobby ideas to try for the entire family to have a good time together.
Seven perfect ways to enjoy the outdoors as a family
If you're looking for some great hobby ideas for your family and you to enjoy together, these 7 ideas are perfect.
1. Go camping? Whether you live in the city or the country, the everyday hustle and bustle of life means we all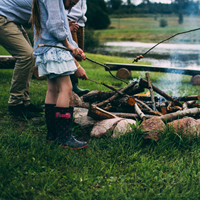 need a break! Try switching off your phones and other electronic devices and enjoy star gazing and toasting marshmallows over a campfire. This is a great way to make memories, and enjoy the great outdoors with your family.
2. Try a local sporting activity? Why not join a tennis club, or support your local football team by attending their games? There are so many sports to be a part of, so why not choose one that you can all support, play and enjoy together as a family.
3. Why not try planting the perfect garden? Whether you want to grow some beautiful flowers, enjoy the taste of your own homegrown veg or spice up your meals with a perfect herb garden, there are many fabulous ways to get growing at home. Invest in some seeds, and child-size gardening equipment and see what you can grow. It's a great way to encourage wildlife into your garden too.
4. Try collecting nature for artwork? There are so many things from seashells on the beach to conkers in autumn that you can collect from the great outdoors with the family. Bring them home and enjoy getting crafty together creating homemade cards, artwork and gifts.
5. How about an outdoor treasure hunt? Before you go out, create a tick list for your children to take with them including items such as different types of tree, bugs, leaves and anything else you can think off that can be seen outside. Go for a walk together and see how many things you can spot on your outing together.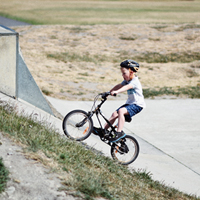 6. Why not try riding your bikes? Teaching your children to ride a bike is a great way to give you an awesome activity to do as a family! Riding a bike is a great way to not only get exercise and enjoy the great outdoors, but it also helps develop hand-eye coordination and strengthen your muscles!
7. Go for a walk or a hike! Walking and hiking are great ways to get out and enjoy the outdoors, get some exercise and really appreciate the fabulous scenery that the U.K. has to offer; from doing the three-peak challenge to finding local places to hike and climb.
With these 7 hobby ideas you now have a variety of choices to help your family and you enjoy the great outdoors together, even as autumn begins to set it in.