Cineworld Sheffield VIP Style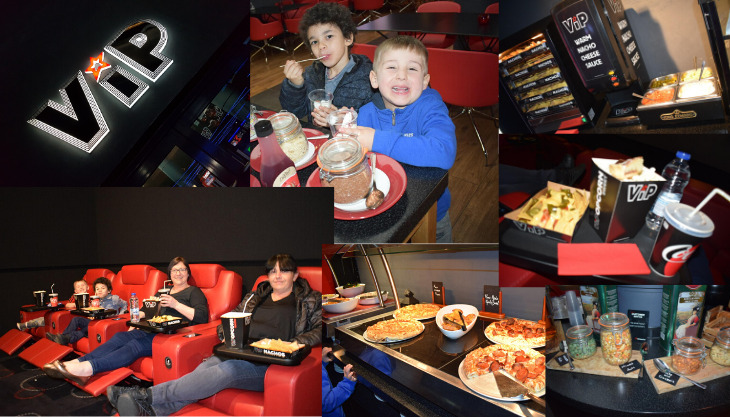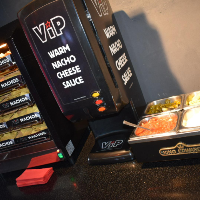 When I was asked to review VIP at Cineworld Sheffield, I obviously jumped at the chance. I mean who doesn't like all you can eat food and snacks along with comfortable chairs to relax in while watching a movie? Home from home springs to mind!
Prior to going I did think £29 per person seemed a bit steep as I didn't know what to expect, but after trying it I feel it is such good value for money and a great experience for both adults and kids alike.
When we arrived, we had access to a VIP waiting area till 45 minutes before the film started then escorted into the VIP suite for a selection of food to create 3 courses. The options we had were soup, bread, salad, couscous, pasta, vegetable lasagne, seasoned potatoes, pizza, garlic bread, fruit salad and mini cakes plus the usual cinema snacks, popcorn, hotdogs, nachos, nuts and even frozen yoghurt! It was all prepared fresh and to be fair it was very nice. And drinks choices well what can I say, they have every flavour soft drink you could think of from Fruit Juices to Caffeine Free Diet Cherry Cola and even no bubbles Orange or Grape Fanta.
The boys had pizza, pasta, hotdog, frozen yoghurt, mini cakes and chocolates and that was all before the movie. Edan even told us €˜he was full as a pig and fit to burst' and that was before he chose his snacks for the film! Other food places around the area don't give that result very often as meals don't always come with everything the kids like and sometimes not enough.
The screens have 40 reclining super comfy seats in a spacious screening with tables for as many snacks as you like. My obvious choice had to be popcorn, nachos and a couple of mini cakes even though id already had 4 but they were too good not too, mouth-watering and so tasty. The kids loved being able to take more than 1 snack in too, they opted for chocolates, nachos and popcorn and they even got a refill soft drink during the film. You know for when they decide to drink it all before the film even starts?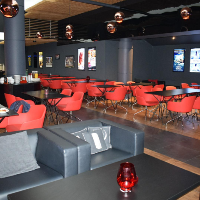 Overall summary a great experience for all, the kids loved it and want to go back again, they've even said they prefer that to the normal screenings. If you went to a similar food place it would cost at least £70 plus the cost of the cinema with snacks which wouldn't be unlimited or the comfier seats. A must to try for a family treat, we will definitely be going again soon!