Explore the Northeast countryside!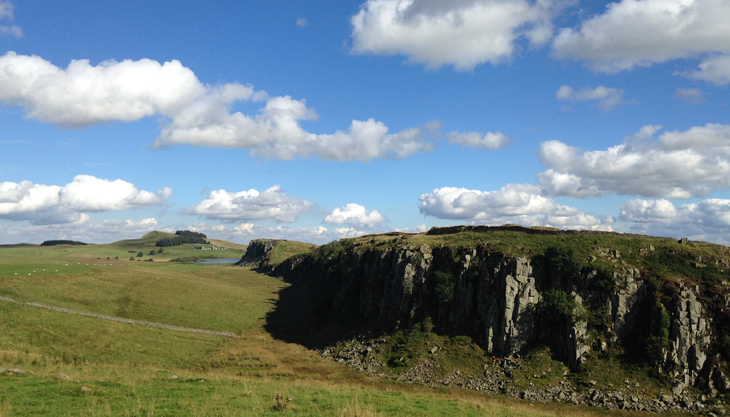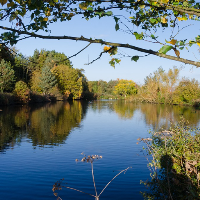 There are so many gorgeous places to visit we really are spoiled for choice and all are within an hour's drive.
Dress for the weather and a sense of adventure and get outside – it's really good for you and for your children. Always check if booking is required in advance.
In no particular order…
Wallington Hall, nr Morpeth NE61 4AR:  https://www.nationaltrust.org.uk/wallington
Gibside, Rowlands Gill (pictured) NE16 6BG: the car park, landscape garden, woodlands, play areas, cafe (takeaway only) and toilets at Gibside are open. To avoid disappointment please book in advance, especially at busier times such as weekends and bank holidays. However, where space is available on weekdays, pre-booking may not always be necessary. Members can book for free, while non-members will need to pay when booking. https://www.nationaltrust.org.uk/gibside
Souter Lighthouse and the Leas SR6 7NH: 
Cragside, Rothbury NE65 7PX: Fabulous house and gardens with loads of lovely walks. https://www.nationaltrust.org.uk/cragside
Belsay Hall, nr Ponteland NE20 0DU: the hall and gardens are always a joy to visit whatever time of year. I especially like the quarry garden and the walk to the castle.
Warkworth Castle & Hermitage NE65 0UJ:  https://www.english-heritage.org.uk/visit/places/warkworth-castle-and-hermitage/
Tynemouth Priory and Castle NE30 4BZ: once one of the largest fortified areas in England. 2000 years of history overlooking the North Sea and the River Tyne, it dominates the headland. https://www.english-heritage.org.uk/visit/places/tynemouth-priory-and-castle/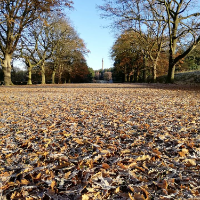 Dunstanburgh Castle NE66 3TT: this magnificent castle is reached via a beautiful walk from the nearby village of Craster. The 1.3 mile walk along the rugged Northumberland Coast crosses working farmland. Please remember to follow the countryside code.  You can walk up to the castle but will need to buy a ticket to visit inside the walls.
Washington Wetland Centre (pictured) NE38 8LE: Please check the details on the website before booking https://www.wwt.org.uk/wetland-centres/washington/bookings/
FREE sites to visit – no cost and no booking required
Egglestone Abbey, Barnard Castle DL12 9TH: The charming ruins of a small monastery of Premonstratensian 'white canons', picturesquely set above a bend in the River Tees near Barnard Castle. Remains include much of the 13th century church and a range of living quarters, with traces of their ingenious toilet drainage system.
Bowes Castle, Barnard Castle DL12 9HP: The impressive ruins of Henry II's 12th century keep, on the site of a Roman fort guarding the approach to strategic Stainmore Pass over the Pennines.
Carrawburgh Roman Fort and the Temple of Mithras NE46 4DB: one of 16 forts along the 73-mile long Hadrian's Wall, which was begun around AD 122. Carrawburgh housed a garrison of approximately 500 soldiers. Nearby stands the fascinating temple to the god Mithras, built by the soldiers of Carrawburgh. Mithraism was a Roman religion inspired by a god originally worshipped in the eastern Empire. According to legend, Mithras captured and killed a sacred bull in a cave, which Mithraic temples were intended to evoke. The temple was probably built by soldiers at the fort around AD 200 and destroyed about AD 350. Three altars found here (replicas stand in the temple) were dedicated by commanding officers of the unit stationed here, the First Cohort of Batavians from the Rhineland. Charges apply at the nearby Northumberland National Park car park. Site is accessed via a field, over rough ground which can be muddy.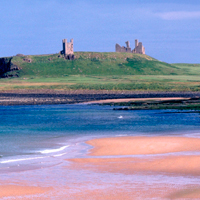 Edlingham Castle, nr Alnwick NE66 2BW: Edlingham, with its remarkable leaning tower, was recently voted one of the top three castles in Northumberland. The riverside ruins of a manor house progressively fortified against the Scots during the 14th century. There is a small amount of parking available at the church adjacent to the site. Waterproof footwear is recommended. Dogs on leads are welcome.
Berwick Castle and Ramparts TD15 1NF: the remains of a medieval castle crucial to Anglo-Scottish warfare, superseded by the most complete and breathtakingly impressive bastioned town defences in England, mainly Elizabethan but updated in the 17th and 18th centuries. Surrounding the whole historic town, their entire circuit can be walked with views out ot sea and along the River Tweed (pictured).
Northumberlandia, Cramlington NE23 8AU: rising 100 feet high and measuring a quarter of a mile long, the female figure of Northumberlandia dominates the landscape. This unique piece of public art made of rock, soil and grass lies in 46 acres of parkland and has four miles of walking paths around and over the huge sculpture of a reclining lady.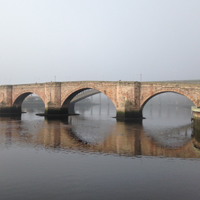 Allen Banks & Staward Gorge, Bardon Mill NE47 7BP: the largest area of ancient woodland in Northumberland and has been here since at least medieval times. This long history has helped make it a fantastic home for flora, fauna and fungi. Easy walking trails.
Roseberry Topping (pictured) TS9 6QR: and the nearby Guisborough Forest and Walkway are a great day out for families that enjoy being outdoors. There are marked walking trails and bike routes through the forest and a challenging hike to the top for little legs with magnificent views to reward the effort.
Penshaw Monument DH4 7NJ: an easy stroll to the monument that resembles the Acropolis in Athens! Great views and lots of space to run around in nearby Herrington Country Park too. NB The actual monument itself is closed.
Hadrian's Wall: stretching 73 miles from coast to coast, Hadrian's Wall was built to guard the wild north-west frontier of the Roman Empire. Discover the remains of the forts, towers, turrets and towns that once kept watch over the Wall and take in spectacular views of the rugged landscape. One of our favourite walks is to park at Steel Rigg NE47 7AN and walk to Sycamore Gap and then on to Crag Lough. There are two routes to choose from; a more challenging one follows the wall or an easier route just south of the wall is suitable for young children.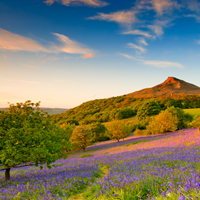 Derwent Reservoir, County Durham DH8 9TT: discover the wildlife and history of Derwent Reservoir along the multi-user trail (3.5 miles from Pow Hill Country Park to Millshield picnic site) while taking in the breath-taking views of the reservoir. It's an easy walk suitable for cyclists, walkers, wheelchairs and pushchairs. Along the trail you can also spot many wildlife gems including swooping birds, red squirrels, rabbits and butterflies.
Our beaches: we have arguably the best coastline in Britain. Easy to access and obvious choices are South Shields and Tynemouth, but venture a little further and we have some stunning locations that are often even more dramatic in winter. The Durham Heritage Coast between Hartlepool and Seaham has a rugged coastline of Magnesian Limestone cliffs and rocky bays whilst the Northumberland coastline is characterised by vast white sandy beaches, castles and unspoilt countryside. Take a frisbee or a kite and plan a visit to the local chippy for lunch or tea. One of my favourites is the Harbour View at Seaton Sluice (closed Sundays though).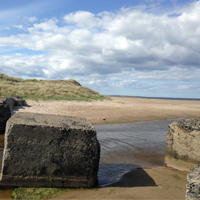 Compiled by Anna Skelton. Please check restrictions before venturing out with venue websites, as we know things may change. Thank you. Feel free to share this link with friends.
Photo credits: Washington Wetland Centre, National Trust – Gibside, Northumberland Tourism – Dunstanburgh, Colin Carter NYMNP – Roseberry Topping. Others – Anna Skelton