Puddle Ducks – The Perfect IntroDUCKtion to Swimming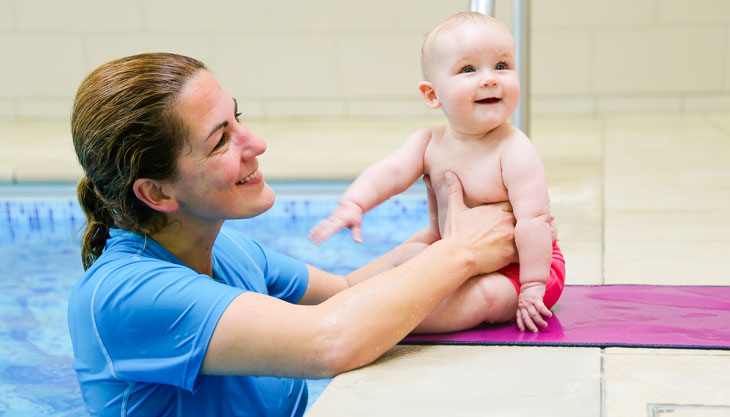 The Perfect IntroDUCKtion to Swimming.
We are proud to be the UK's only 100% child-led national swim school, teaching over 21,000 babies and children to swim every week.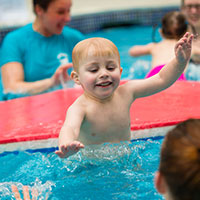 Swimming is one of the most amazing experiences you can share with your little one. Babies have a real affinity with water. They spend nine months in the womb, and many expectant mothers choose a water birth as the most natural introduction to this world. Water is recognised as a warm, supportive environment during labour and provides a natural transition for your baby from the womb to the "outside world".
Babies can be taken swimming from birth, they do not need to have completed their injections and very young babies love the freedom, massage and gentle exercise that the water offers.
The benefits to both parent and baby of swimming together are immense:
Plenty of eye contact
Plenty of skin contact – it's a wonderful way to bond with your baby
Helping you and your baby feel relaxed and confident in the water
Makes swimming a fun and socially stimulating activity (for both you and your baby!)
Even parents who can't swim can enjoy relaxing in the water with their baby
There are further benefits too, especially if you join a fun, progressive programme like Puddle Ducks:
It is the only time your baby can be completely independent (when experiencing gentle submersions)
Only in the water, can a baby move freely and develop actions they wouldn't otherwise be able to in their first year of life. This gives "swimming babies" the opportunity to develop crucial higher brain functions, core muscle development and co-ordination far earlier than they would otherwise be able to
Even though gentle, baby swimming classes provide a complete physical work-out: strengthening your baby's heart, lungs and respiratory system, which again aids development of the brain
Regular swimming often improves eating and sleeping patterns
Learning to respond to key words (within a few months) can make your baby sharper mentally, increasing levels of awareness and understanding as well as improve communication between you
Encouraging a baby to take regular exercise from such a young age is also an extremely healthy routine to instil which may prevent childhood lethargy
But most importantly of all, baby swimming should instil a love of water for the rest of your child's life.
What is the Puddle Ducks difference?
Always giving your child the choice
Getting babies and children to be comfortable and confident under the surface of the water is a key part of their swimming journey. All our teaching methods are consistent with research developments in infant physiology and infant psychology and with technical advances in swimming. We work closely with Birthlight and the STA on the best and safest way to submerge children so that they feel empowered and never forced. The answer is simple, the child decides. Read more in our Technical Director, Ali's blog about how a child can make that choice even before they can verbally communicate with you and their teacher.
Bonding
During our Baby & Pre-school programme, you will have time to really focus on your baby or young child one-to-one. Mums, Dads, Grandparents, Carers and Guardians, it's a great way to bond with your child and an enjoyable way for you both to relax together. It builds trust and promotes social development with our little swimmers often making friends for life at their lessons.
Quality of teaching has been Puddle Ducks' number one priority since day one; it continuously evolves its teaching programme and methods to stay at the cutting edge of child psychology, development and learning techniques
As such, classes sizes are limited to give optimum teacher-student ratios
Each class lasts 30 minutes, is a carefully balanced set of activities including group and individual work, swimming, elective submersions, floating, songs and games. Floating seats and arm bands are not used in the classes to encourage the children's confidence in the water and to allow them to feel their own buoyancy in the water
Puddle Ducks has no minimum age requirement, and takes on babies from birth or as soon as Mum is ready to go in the water. Puddle Ducks takes on children up to the age of 10, so parents should never think their child is too old to learn to swim
Although fun is at their heart, Puddle Ducks classes are about much more than this. Because the classes revolve around bonding and play, the children don't even realise they're learning to swim and are acquiring a skill that could save their lives
Water safety is a structured part of the Puddle Ducks classes; several of its teachers are tutors for the Royal Lifesaving Society
Puddle Ducks classes incorporate rhyme, music and movement based on extensive child development research, and has even had its class soundtracks written by professional musicians. Classes even encompass elements of sign language!
Earlier classes are based on age, not ability, so that children are learning amid their peers. Teachers are trained to recognise and work with different ability levels within the same group, tailoring activities to the child's individual needs and abilities
About Puddle Ducks classes
Puddle Ducks offers instructor-led baby and child swimming classes from birth to 10 years with an emphasis on fun, confidence and grace in the water.  Classes are divided into the following programmes:
Baby & Pre-school (0-4 years)
Our Baby & Pre-school programme teaches children to be happy and safe in the water. Many of our Puddle Ducks can swim 10m before they start school, giving them a headstart on their new friends!
Baby and toddler swimming:
Floaties (for children under 6 months)
Splashers (6 -15 months)
Kickers is aimed at toddlers (15 months – 2 years)
Pre-School swimming:
Little Dippers
Dippers (competent swimmers aged 2-5 years)
Dabblers (swimmers aged 3-5 years)
Swim Academy (4-10 years)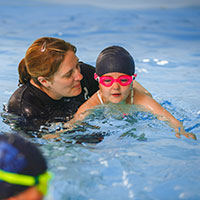 Swim Academy teaches primary-school children up to the age of 10 to swim beautifully and efficiently, as well developing essential water safety and lifesaving skills. Many of our Swim Academy students go on to swim for organised clubs and take part in competitions – you never know, you might have a future Olympian on your hands!
Swim Academy is aimed at children of school age up to 10 years, and is divided into 6 levels:
Swim Academy Level 1 (two teachers in the water with a maximum of 8 children)
Swim Academy Level 2 (two teachers in the water with a maximum of 8 children)
Swim Academy Level 3
Swim Academy Level 4
Elite Swim Academy Level 5
Elite Swim Academy Level 6
About Puddle Ducks Franchising
Puddle Ducks was founded in 2002 by Jo Stone and Tracy Townend and Jo is still at the helm today. They franchised the business in 2007 and now have 34 franchisees operating out of over 50 territories across the UK.
Puddle Ducks is wholly owned and operated by passionate, ambitious people who want a rewarding career that, in the medium-long term, provides a stable work-life balance.  Puddle Ducks' franchisees are a team of professionals who have been solicitors, accountants and senior managers in a past life and are now dedicating their skills and expertise to running their own business while still having the time to enjoy family life.
Our ethos continues to attract franchisees across the UK, and Puddle Ducks is actively growing its franchisee network. For further information on Puddle Ducks Franchising Ltd visit www.puddleducks.com/franchising
Puddle Ducks
Puddle Ducks classes are full of carefully designed but simple activities, gentle submersions  and are packed full of songs.  Songs and rhymes provide gentle stimulation and are the most effective way to communicate with your baby. Repetition is fun, reassuring and promotes learning.  Puddle Ducks classes are progressive with many children swimming 10m independently before they start school.