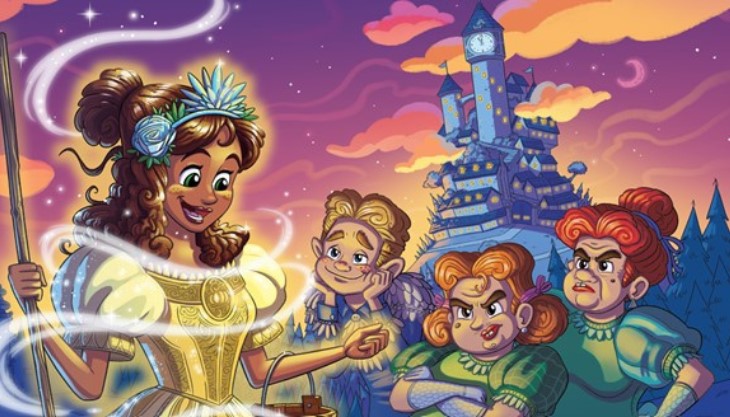 Cinderella – The Belgrade Pantomime
This Christmas you're invited to a Royal Ball at the Belgrade Theatre with the nation's favourite panto, Cinderella!
This wonderful rags-to-riches tale is guaranteed to delight all the family and bring a touch of magic and make-believe to your festive celebrations.
Join Cinderella on her quest to win the heart of the dashing Prince Charming, with a little help from her best friend Buttons and the enchanting Fairy Godmother. But with her evil Ugly Sisters determined to ruin her chances and the clock about to strike midnight, will Cinders manage to win the Prince's love before the spell runs out?
Once again written and directed by Iain Lauchlan, this year's panto will feature the spectacular sets, lavish costumes and sing-along-songs that make a trip to the Belgrade a truly unmissable Christmas treat for thousands of families every year. What's more, with not one but two dastardly dames in the shape of the Ugly Sisters, this year's show is set to be double the fun (and mayhem)!
So pick up a pumpkin, grab your glass slippers and join us for some sparkling festive fun at the Belgrade Theatre, where Coventry celebrates Christmas.
Hurry now, the clock is ticking…
Click here to find tickets for the 2023 Belgrade Panto – Cinderella
All children under the age of 2 need a Lap Seat Ticket, which allows them to sit on the lap of a parent or guardian during the performance. You can add Lap Seat Tickets to your online booking in the Supplementary Events section during the online booking process, after you've selected your main tickets. Alternatively, you can contact Box Office directly.
A limited number of Booster Seats are available from our Merchandise Counter for very young patrons seated in the Stalls. These can be hired for a fee of £1 and are issued on a first come first served basis. Alternatively patrons are welcome to use their own car booster seats.
Related Events