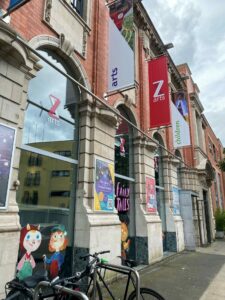 Z-Arts is a hidden gem located in Hulme, just a short 15-minute drive from Sale. We visited at the end of the summer hols to try out their escape room, The Library of Enchantment, and absolutely loved it!
We've done three or four escape rooms now as a family and at the end my son declared it "the best one he's ever done!" I don't want to give too much away as the element of surprise is all part of the experience plus I wouldn't want to accidently reveal any clues – but here's a bit of an overview so you know what to expect… No spoilers, I promise!
The Library of Enchantment is described as "a fun-filled thrilling family escape room full of sea-faring adventures, time travelling tricks and a pesky old bookworm who's always up to meddlesome mischief! Join us for an enchanting experience that requires your puzzling skills, logic, persistence and, most of all, teamwork."
Upon arrival we were met by our host who explained our mission and set us off on our adventure. During the experience we had to work our way through a number of rooms searching for clues and solving puzzles, mini games and riddles.
The game is designed for children aged 8 and over (in fact no grown-ups are required for children aged 8+) although children can join as part of a family group from 6+. Now my kids are 12 and 15 so the three of us wrongly believed it might be on the "easy" side – we were certainly mistaken and it offered a brilliant challenge for all of us.
What I love most about doing escape rooms as a family is how we all see things from a different perspective. There were certain clues that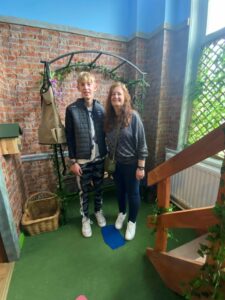 completely stumped me but the kids worked it out with ease. I can definitely see the appeal to a variety of ages as the room settings and details were incredible – particularly the space themed room with an amazing feature that I won't reveal. Younger kids will love searching for clues, following the tasks and being involved in a little fantasy world whilst older children and teens (and adults) can embrace the challenge of racing against the clock and using their problem solving skills to progress through the trials. There are lots of sensory elements too so sight, sound and smell come into play so everyone can join in.
We had our friendly guide with us at all times, providing hints and clues if we needed them but mostly letting us get on with the job at hand.
I can honestly say it was a brilliant hour! The creativity and imagination that has gone into putting this experience together was amazing and if you're looking for something that the whole family can enjoy then it definitely ticks all of the boxes. Up to eight people can enter at one time so it's great for larger or smaller groups and would be a brilliant party idea.
And for those looking for a Christmas experience then you might even find a festive theme too!
So, did we escape? Thankfully we did (with a fair bit of help)! We celebrated with coffee and cake in the spacious café afterwards.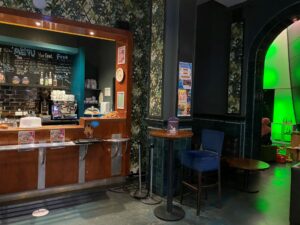 Whether you're looking to visit for the escape room, the Fairy Tales exhibition, cinema/ theatre programme, one of their many family friendly craft events or to just grab a coffee it's a lovely way to spend some time with the family and I'd recommend you try it for yourself soon.