The World Outside Kindergarten is an outdoor woodland childcare setting – the first of its kind in the Wyre Forest, catering for pre-school children, which opened in Spring 2021 in the grounds of Baxter College, Kidderminster.
The World Outside Kindergarten is the dream for local qualified and established Forest School Provider, Sandra Hill. Sandra has successfully been running outdoor activity sessions for children for over 10 years – many at Bodenham Arboretum where her Wilderness Explorers, Forest Fridays for the Under 5s and Home Education groups are in big demand. Sandra commented, "As a child I grew up in the country, spending many hours roaming around the fields, getting stuck in streams and climbing trees.   Bringing my own children up with in the town I felt I was unable to give my boys the freedom they needed to explore and grow within a natural environment. The World Outside Kindergarten, aims to give your children a fantastic outdoor setting – a place where they can freely explore and learn at their own speed and in their own way."
Whilst following the Early Years Curriculum outdoors, we inspire children with a love of learning, through nature connection in a nourishing and nurturing environment, so that they may grow in mind, body and spirit.
The children spend most of their time in nature, outdoors, caring for the environment, growing vegetables and caring for animals so as to develop a greater understanding of the natural environment.
Children will be encouraged to take measured risks to aid their development and so nurture self-esteem and self-confidence. Our environment will also help in developing their emotional intelligence, physical and social skills, resilience and perseverance.
At the heart of The World Outside is a love of the planet and our environment and a wish to create a setting that is sustainable and has little or no impact and preferably enhances it.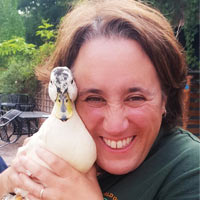 We have the means to provide hot meals if required, and a warm, indoor space should we have inclement weather.
​And the benefits of being outdoors? ​Sandra believes that fundamentally being outdoors greatly Improves children's wellbeing and mental health, whilst also offering practical and inventive ways to learn literacy and numeracy.  And of equal importance, she believes it Improves their learning for sustainability – developing a connection to nature and understanding of the environment which increases a child's likelihood of caring about these things as an adult.
The World Outside aims to support parents and guardians as they juggle the challenges that everyday life presents.  We can offer a degree of flexibility to help with your childcare needs – we are open 5 days a week, 52 weeks of the year, from 8am through to 6pm. You can also utilise the Government's 30 hours of free childcare per week for 38 weeks of the year (during school term time).
To find out more see www.theworldoutsidekindergarten.com or email Sandra Hill here.