Wild Zoological Park
Join us at Wild and…
Discover – Reptiles unleashed – Cargo Hold
Walk through a dark and mysterious cargo hold but not everything is quite what it seems in here.
WILD Amazon – Explore The Realm of the Rainforest
An indoor walk through exhibit with roaming animals and even some jawsome crocodiles, but please no bathing!
Wild Australia – Journey Through the Outback
Bush Trecker Trail. G'day mates, share a laugh with kookaburrahs and get in touch with your ozzy side with our resident wallabies!
Wild Asia – Meet Baloo! Our resident Palawan Binturong
Fall in love with our cheeky otters and celebrity bear cat Baloo!
Wild Africa – Venture To The Edge of Africa
Step into the heart of the Serengeti and visit our friendly meerkats
Wild wings free flight display
Wild Wings is an exhilarating all new free flight bird display featuring flocks of bright macaws, owls, eagles, vultures and ginormous marabou storks!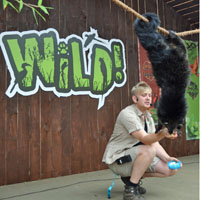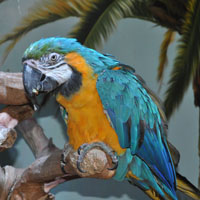 VIP Explorers Society
Join the Wild Explorers Society and encounter personalised experiences with some of our truly wild animals at Wild Zoological Park! Perfect for birthdays, celebrations and rewards!
.. Become a WILD Keeper for the day..
..Meet Baloo, lemurs or even our resident meerkats..
..Get up close to some of our resident reptiles and arachnids!..
For more information please contact us at info@wildzoo.co.uk
At WILD we aim to:
Provide a safe and educational environment where members of the general public can learn more about all forms of wildlife.
Contribute conserving Wildlife through breeding programmes and the care of critically endangered animals.
Remove stigmas and common misconceptions about misunderstood creatures thus making WILD an enjoyable and memorable place to visit.