Are you looking for  a new activity that you and your toddler can enjoy together?
Tumble Tots is Britain's leading National Active Physical Play Programme for children 6 months – school age.
Tumble Tots  is a structured programme that is designed to build self-confidence as well as developing physical skills such as balance, agility, co-ordination and climbing. Children are assisted by trained staff in a fun and caring environment.
Research has shown that children's brain development is significantly enhanced through physical exercise and is crucial for continued growth and development. Tumble tot's provided children of all ages with the necessary skills
There are different sessions, depending on the age and stage of development of your child:
2 year olds (6 mths – 2yrs)
2 – 3 year olds (2yrs – 3yrs)
3 years old – school age (3yrs – 5yrs)
Stourbridge CLASSES:
Monday at St James Wollaston, Stourbridge
Tuesday at Cradley Heath Community Centre
Wednesday at Kingswinford Our Lady of Lourdes DY6 9JG
Thursday at Blakedown Parish Rooms DY10 3JG
Friday at Penn United Reform Church
Saturday at The Ridge Primary, Wollaston, Stourbridge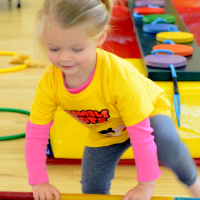 See full address details for our class locations on our website.
If you want to find out more, just give Claire a call on 07709351398 or visit our website www.tumbletots.com/Stourbridge   
Please mention Raring2go! when you call us