Every Day, children are diagnosed with serious and life-threatening illnesses or have terrible accidents that leave them fighting for life.
The Sick Children's Trust provides free, high-quality 'Home from Home' accommodation, as well as emotional/practical support to families with seriously ill children in hospital. Treetop and Magnolia, our two 'Homes from Home' at Sheffield Children's Hospital provide 24 private family bedrooms and shared living areas to around 700 families each year.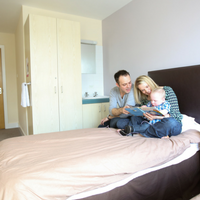 Our houses give families the chance of a good night's sleep, some time away from the pressure of a clinical environment.  Starting the day with a hot shower and breakfast, gives families chance to cope, to be strong for their child. Our Sheffield houses prioritise families of critical care children – for these families there is no bed on the ward. Our accommodation enables families to stay just a short walk from the ward with access from within the hospital; something we know is important to families, especially when they are called to be by their child's side at night.
Without accommodation, families face serious financial strains. An average stay at one of our Sheffield houses is 11 nights. Faced with hotel/ parking costs, we estimate that it would cost £1,064 to stay near the hospital, however, it wouldn't be practical, particularly if siblings needed to stay too.
It costs us £30 to support a family for one night. Our houses are available 365 days a year.
Please support us to continue to help children have loved ones close at hand.