We believe life should be fulfilling and enjoyable; homelessness isn't.  We work with homeless adults to support them to overcome all the barriers to their fulfilling and enjoyable life, taking them from sleeping bag to employment.
We are based in Sheffield city centre and work with people who are homeless or at risk of being homeless.
Our staff team will work with people to find accommodation and whatever support they need to help them make progress away from homelessness.
We are funded by donations and the generosity of the people and companies of Sheffield.  We host quite a few events each year that you can get involved in, so please look at our website for more details and help us make a difference.
Below are a couple of examples
Walk In My Shoes
On Saturday 14th October 2017 join the Cathedral Archer Project for 'Walk In My Shoes'
'Walk In My Shoes' is back and this time we've got a very special NEW route! This year for the first time we will be taking on the Five Weirs Walk to raise money for our work with the city's homeless and vulnerable.
Join us for five miles along the banks of the River Don from Sheffield City Centre to Meadowhall. This is an enjoyable route for the family through the steel city, taking in some of the best sights the city has to offer. There are Victorian buildings and scenes of the city's industrial heyday: old schools, mills, factories, some contemporary sculptures and of course the five weirs.
All you need is your walking shoes and a sense of adventure! Bring your family, friends, even your dog for this special event.
It costs £5 per adult to register and you can register HERE. Children and any furry friends are free.
Once registered you will receive your information pack which lets you know all the details for the day and how to get raising that all important money!
All money raised will go towards our work supporting homeless adults in their journeys to a more stable and fulfilling life.
If you have any questions please email Lynne Urpeth on 0114 3212317 or lynne@archerproject.org.uk
My Sleep Out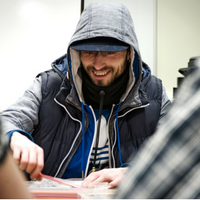 Every Month
Are you looking for a challenge? Would you like to help raise funds for the Cathedral Archer Project?
Why not take part in a My Sleep Out? All you have to do to take part is challenge yourself and others to give up your bed for the night. You could have a camp out in the garden or hire a hall for the night?
If your interested in holding a My Sleep Out, then email ruby@archerproject.org.uk for a participant pack.
Wear a Woolly Day 
On Friday 16th February 2017 Cathedral Archer Project will be holding our 'Wear a Woolly' day and we would love to get everyone involved!
February is a tough month for those on the streets and it is around this time of year that we find many people need more help from ourselves. Please show your support by getting everyone to wear their favourite woolly (from hat to socks via jumper).
Get your office, grab your friends, or get your school involved! A small donation from everyone taking part can make a HUGE difference to the homeless and vulnerable people we see.
We want to get as many people involved as possible! So please consider taking part and help us keep homeless people warm.
Email Tracy on tracy@archerproject.org.uk for more information.