Discover Sunderland's fascinating history in one place at Sunderland Museum and Winter Gardens. With a collection dating back to 1846 there are plenty of surprises at Sunderland Museum & Winter Gardens. Perhaps the most famous object of all is Wallace the Lion.
Wallace was part of a touring wild animal show which visited Sunderland during the 1800's with the then famous African tamer Martini Maccomo. When he died, some years later Wallace the lion, came into the Museum's collection and remains  one of the most popular exhibits. Over 135 years later, he's still here at Sunderland Museum and Winter Gardens…posing for selfies!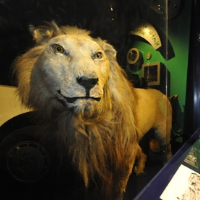 You'll also find hundreds of other amazing objects like the first Nissan car to roll off the production line at their Sunderland factory in 1986. Galleries cover the shipbuilding, glass and pottery making industries the Anglo-Saxon period and many other aspects of the city's past.
The Art Gallery shows a significant collection of the works of LS Lowry an artist who spent lots of time in Sunderland. The temporary exhibition and events programme mean that there is always something new and exciting to see and do for all the family.
The Winter Gardens, a 21st Century addition to the museum is a tropical paradise. Over 2,000 plants thrive in the glass rotunda and from the tree top walkway visitors have a bird's eye view of beautiful Mowbray Park.
Please note that the Pottery Gallery is occasionally closed to the general public due to special events taking place. Please contact the museum before your visit to check opening information.
What's On
In addition to visiting the galleries and Winter Garden, regular events take place for families including trails, arts and craft activities, theatre productions and craft fairs. For a full programme of events click HERE.
Visiting Us at Sunderland Museum and Winter Gardens
Entry to Sunderland Museum and Winter Gardens is free but donations are welcome.
Monday – Friday, 9.30am – 5pm (Wednesday late night opening till 7pm)
Saturday, 10am – 4pm
Sunday, closed
For lots more ideas for local days out then visit our What's On guide here.