Looking to hire a canoe on the River Severn or a Kayak on the Kinver canal?
We offer a range of self-guided canoe & kayak trips on the River Severn & Canal including Bridgnorth-Arley, Bridgnorth to Hampton Loade, Bridgnorth to Bewdley and Kayak trips based at The Vine in Kinver.  Our expert instructors will ensure you have all the information and guidance you need to ensure a fun & safe experience on the water!
River Severn Trip:
Hire a canoe & enjoy a canoe trip on the River Severn (the longest river in the UK) and enjoy all that the Severn Valley has to offer. We'll help make your canoe hire experience extra special, by sharing our knowledge of the river and giving top tips on how to get the most out of your day.
​The best stretch of the River Severn for paddling runs 14 miles from Bridgnorth in Shropshire to Bewdley in Worcestershire, with a choice of up to three routes, depending on how long you want to canoe for. Bridgnorth to Bewdley (5-6 hrs), Bridgnorth to Arley (4hrs), Bridgnorth to Hampton Loade (2hrs) or Hampton Loade to Arley (2hrs). Hiring a canoe on the River Severn is a brilliant day out for families, couples and friends and is the is the perfect way to enjoy the great outdoors.
​Hire a kayak on the Kinver canal:
We're hiring kayaks on the Kinver Canal, based at the Vine pub at weekends & school holidays. Enjoy a kayak trip and a pub meal, the perfect day out!
Make memories, go paddling…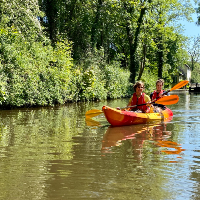 River Severn Canoes operate at weekends, and each day during the school holidays, from April.
To find out more, click here.