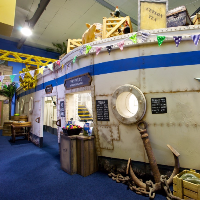 Set sail for Valley Centertainment in Sheffield! We've got 2 Adventure Golf courses taking up over 14,000 sq/ft over 2 levels! Your adventure takes you from the boat at the Caribbean Quay, through mysterious sea caves before being marooned on a desert island full of exotic palm trees and mystical jungle ruins! This truly is an adventure like no other! See exotic animals, statues, and carvings along the way, just remember it's not the taking part that counts, it's winning!
Paradise Island Adventure Golf Prices
Play 1 course
Under 5's £4.50
5-16 Yrs £7.50
Student £8.00
Concession £8.00
Adult £9.50
Family of 4 £30.00
Play 2 course
Under 5's £6.00
5-16 Yrs £11.50
Student £12.00
Concession £12.00
Adult £14.50
Family of 4 £42.00
Directions
Inside the same door as Monkey Bizness and Laser Quest at Valley Centertainment, Sheffield.
Opening Hours
Monday – Thursday 12 pm – 10 pm
Friday 12 pm – 11 pm
Saturday 10 am – 11 pm
Sunday 10 am – 10 pm
We also offer Party packages for Adventure Golf Only or we can include food, Invites & party bags if required!
CORPORATE EVENTS
*Groups of more than four adventure golfers must tee off in smaller groups, at the hole next to one another*
You know the old saying, many a business deal has been done on the golf course. Well, now there's a new place to do business with a bit of added adventure. With two 18-hole courses, we've got the perfect venue for:
Works night out
Team building
Staff/client entertaining
Click HERE to book Adventure Golf online.
For more ideas and local events, visit Raring2go! What's on pages HERE.