Hook Swim School & Aqua Centre is a fantastic privately owned, family run 15 metre, purpose built teaching pool. The pool has a 0.8m shallow end with a slope down into a 1.8m deep end, teaching weekly classes for all ages and abilities, from babies up to adults.
Hook Swim School has been training swimmers since 1999 and we've been trusted to teach g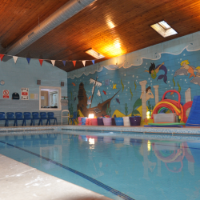 enerations to swim. Our family-owned and operated swim school provides the lifelong skills we teach.  Professionally qualified swim instructors are here to instil comfort and confidence in the water. They are highly trained and selected for their technical knowledge, coaching skills and ability to teach an enjoyable and safe aquatic experience.
We run our swimming lessons; structured, results-oriented programs that focus on technique and progression to ensure all swimmers achieve their swimming goals. Water safety is at the heart of what we do and we guarantee a clean, happy and safe environment for the whole family.
We also run Aqua Natal Yoga every Wednesdays and  Crash Courses during easter and summer holidays.
Hook Swim School & Aqua Centre is located in Hook, Chessington, Surrey and is easily accessible via both car and public transport.
At Hook Swim School & Aqua Centre we believe swimming should be fun, allowing children to build confidence is vitally important and a key part of their learning.  We also understand that all children are different and learn at different paces, therefore our instructors will work with each child's individual needs to ensure they have a fun and personal swimming.
Our classes / services include:
Baby and Toddler Swimming Classes:  3 Months to 3 Years
We love to teach babies at Hook Swim School.   We introduce babies to swimming and water safety in a relaxed and happy atmosphere.  Our classes cater for babies aged 3 months to 3 years.
Our baby and toddler swimming classes have been designed around your child's age so that the activities are reflective of your child's developmental stage, both physically and cognitively.
School Age Lessons: School Age Child
Classes are divided into Beginner, Improvers and Advanced
Beginner
Beginner swimming classes are for children from 4 years of age with little swimming experience. This level is designed to provide your child with the fundamental survival skills needed to be safe in the water. The classes aim to improve your child's confidence and teach your child fundamental swimming skills such as blowing bubbles, kicking, doggie paddling, submerging, jumping in and learning to safely enter and exit the water by themselves.
Improvers
This level aims to prepare your child to start learning the basics of the two most important swimming strokes: freestyle and backstroke. Your child will begin to learn the correct head & body position, breathing to the side technique and timing. These classes will help make your child a confident, competent and efficient swimmer.
Advanced
Advanced swimming lessons are designed for children, who have previously had swimming lessons. This level will extend students knowledge and skills by introducing overarm, the beginnings of backstroke, floatation and diving.
Half Term & Holiday Fun
30In the holidays we run all sorts of fun sessions, including Crash Courses, Fun Swims, Family Swims and Private Lessons
Aqua Natal Yoga
Aquanatal classes are fun, safe, pregnancy and postnatal exercise classes run by a qualified Aqua natal Instructor. Classes include pregnancy specific exercise, labour preparation, breathing for labour, and relaxation.
Adult Lessons
It's never too late to learn how to swim or improve your technique.
We offer an adult swimming lesson program that will teach you the fundamentals of swimming and water safety, through stroke refinement. Our friendly swim instructors will help guide and support you through your swimming journey.
Whether Beginner, Improver, Hook swim school Adult swimming classes is on creating a relaxed and encouraging environment where adult swimmers can learn basic swim strokes while developing water confidence and safety skills. Intermediate and Advanced classes offer the opportunity to refine technique.
For more information about Hook Swim School, please visit the website.
To find out more about local clubs/classes, please visit the Clubs/Classes section of the Raring2go! website.