Hook Swim School & Aqua Centre is a fantastic privately owned, family run 15 metre, purpose built teaching pool. The pool has a 0.8m shallow end with a slope down into a 1.8m deep end and hosts Hook Swim School, teaching weekly classes for all ages and abilities, from babies up to adults.
We also have a wide variety of activities including Water Aerobics, Crash Courses, Adult Leisure Swims, Pool Parties and School Holiday Family Fun Swims.
Hook Swim School & Aqua Centre is located in Hook, Chessington, Surrey and is easily accessible via both car and public transport.
At Hook Swim School & Aqua Centre we believe swimming should be fun, allowing children to build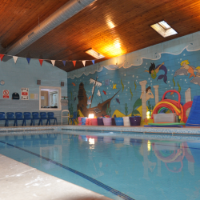 confidence is vitally important and a key part of their learning.  We also understand that all children are different and learn at different paces, therefore our instructors will work with each child's individual needs to ensure they have a fun and personal swimming.
Our classes / services include:
Babes and Toddlers – 3 Months to 3 Years
We take babies from birth – and you'll be astonished by what they can achieve!  They'll have great fun while all the time building their confidence and independence in the water.
Children's Lessons – School Age Child
See your little stars build their confidence, skills and safety. Have fun and learn essential life skills along the way.  The children "achieve" a certificate every term.
Half Term & Holiday Fun
30In the holidays we run all sorts of fun sessions, including Crash Courses, Fun Swims, Family Swims and Private Lessons
Water Aerobics – Choose between two different sessions:
A high intensity cardiovascular class or choose the more sedate "Aqua Pump" style of workout.  Move to the rhythm of popular music and have fun whilst getting an invigorating work out.
Adult Lessons – Whether beginner or advanced, we will work together to achieve your goals, build your confidence and make friends.
Pool Parties – Up to 13 people in the pool.  Fully supervised, toys and floats available with music (optional) and sweets for everyone