FUEL – Holiday Activities and Food Programme
What is FUEL?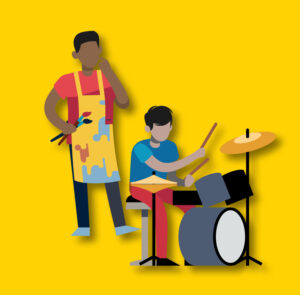 FUEL offers free places at holiday clubs during the Easter, summer and Christmas holidays for children and young people whose parents or carers receive benefits related free school meals; this is different to the universal free school meals that all children now receive at primary school.
Each club aims to make children feel happy, valued and included in a safe environment where they can explore, learn and have fun.
Clubs and activities include: cycling; film-making; yoga; technology and coding; skateboarding; art and crafts; cooking; indoor climbing; and lots of sports such as cricket, football, netball and rugby. Lunch is provided whilst at any FUEL club.
FUEL is the name for the Holiday Activity and Food programme (HAF) in the Royal Borough of Kingston upon Thames and the London Borough of Richmond upon Thames. It is funded by the Department for Education and run by Achieving for Children who deliver children's services across both boroughs.
 Who can attend FUEL?
FUEL is for children and young people who are in reception up to Year 11 and whose parents or carers have applied for and are receiving benefits related free school meals. Eligible young people will have a 17 digit FUEL code to book a place. This is available from school or by emailing the FUEL team at fuel@achievingforchildren.org.uk.
If you are unsure about being eligible, speak to a member of staff at school or search 'free school meals' on your Council website.
How do you book a place at a FUEL club?
Visit the AfC website or scan the QR code
You will see a listing of all clubs running across Kingston and all clubs running across Richmond.
Choose which club you would like to book and click the link to book directly with the club, giving them your FUEL code to confirm eligibility.
Camps run on different dates and in different locations across Kingston and Richmond, so please check the FUEL website for full details before each holiday period.
For more information on holiday camps running in the local area, please visit the holiday camps section of the Raring2go! website.  (Note that other providers on the Raring2go! site may not be registered as F.U.E.L providers with AfC)