Longdown Activity Farm is a fantastic day out for the whole family!
Animal Encounter Barn
We schedule daily farming activities which include kid goat and calf bottle-feeding, duck feeding and the meeting of small animals such as baby chicks, rabbits, and guinea pigs all in the Animal Encounter Barn.
Farm animals galore
We have cows, alpacas, Pygmy goats, donkeys, ponies, pigs, ducks, chickens plus lots of babies! Look out for Pearl the Shire horse, who is very big and cheeky Chesney, our little Shetland pony. And if you like life in slow lane, you'll love Jeffery, our giant tortoise!
Outdoor and Indoor Kid's play areas 
There is plenty of playtime fun to be had at the farm as we announce the opening of our all-inclusive outdoor play area, featuring an accessible swing for wheelchair users, as well as other fun activities. If the weather takes a turn, the Piglets Play Barn is a large undercover area fitted with numerous interactive activities and piggy-themed fun from floor to ceiling, which will have your children squealing with delight! There are plenty of chairs and tables for the grown-ups to put their trotters up and enjoy a drink and a tasty snack from the tearoom while they keep an eye on their little ones.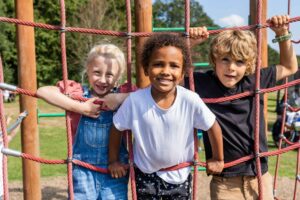 Trampolines, Crazy golf and more…
Don't miss the popular (and very bumpy!) tractor and trailer ride – there's no extra charge (ground conditions permitting). Children will enjoy the Pitchfork and Putt crazy golf course* as well as the large outdoor play area. There are plenty of other playtime favourites, including trampolines, ride-on toy tractors, go-karts, diggers*, and Go Quackers.
Tearoom and kiosk
If you wish to have any drinks and snacks visit our tearoom and kiosk. There is outdoor seating and a limited amount of covered seating nearby. There is also a gift shop, nappy changing and quiet room. Longdown Activity Farm is proud to offer a Changing Room facility complete with an adult-sized changing bed and lifting hoist for visitors with assisted needs.
Farmers Day
Children aged between 8 and 14 can experience life as a farmer during a Farmer's Day. Under the watchful eyes of our qualified team, young farmers will enjoy a good day's work and lots of fun. This might include tasks such as collecting the morning eggs, preparing the animal feed, filling the milk bottles for the goats and calves, and helping with the animal feeding. In fact, doing whatever a real farmer has to do!
Longdown Farm Shop
The Longdown Farm Shop can be found on site and has a large range of delicious locally sourced produce. The adjoining Chicken Shack is stocked with plenty of poultry feed, equipment, and small animal feed and bedding. There is no charge to visit the Farm Shop, which is open to visitors and non-visitors of the Activity Farm.
Longdown Activity Farm will be opening for the 2023 season from Saturday 11th February, every day until 29th October, and then on selected days through November and December.
Buy a fantastic value Season ticket and visit us whenever we are open throughout the season! See our Longdown Activity Farm website or ask in the gift shop for further details.
*Small extra charge.
Phone: 023 8029 2837
Email: enquiries@longdownfarm.co.uk
Website: Longdown Activity Farm