DW Disco's Essex
DW Disco's Essex have been providing the best parties in Essex & the UK over the last 20 years.  Founder Danny Walker has always had both a passion for music as well as a keen eye for detail on quality.  Danny prides himself on keeping his DJ Set up fully up to date with nightclub standard lighting, sound & DJ equipment.  With this he can offer customers the chance to really bring their party to life for all to see!
Catering for all parties and all ages including:
Children's Birthdays
School Events (End of Term Parties, Sports Day, Easter, Halloween, Christmas etc.)
School Events for Adults (PTA Events, Teachers End of Year Parties)
Corporate & Business Events
Weddings
Engagements
Birthdays (18th, 21st, 30th, 40th, 50th, 60th, 70th etc.)
Sports Teams / Presentations Nights
Having a large selection of music is important but understanding which music works well for which parties is just as important.  DW Disco's Essex are booked FOR YOU and will cater for all your needs.  A quick phone call or text message prior to the event will take place to consider any "must have" music and to make sure all requirements are met.
When booking you can rest assured that you are dealing with a business which are fully certified with both Public Liability Insurance and PAT Testing on all electrical equipment.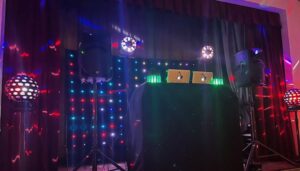 Based in Hornchurch, Essex but happy to quote for any DJ booking within any location.  Additional Fee's apply for bookings outside of a 15 miles radius.
Pricing: To make sure you know you are getting exactly what you pay for pricing is quoted in an easy to understand invoice.
E.g Base Fee (for your choice of set up), Additional Costs for Travel (if required) and then Cost Per Hour for Music.
TO CHECK AVAILABILITY FOR YOUR PARTY CONTACT:
Tel: 07891 055419
Email: d.wdiscos@hotmail.co.uk
Facebook – (Click Here)