Have you ever dreamed of driving a big digger or dumper truck?
Well, at the Diggerland Durham theme park, that dream can come true! It's a super fun place where you can ride, drive and operate real, full-size construction machinery, just like a real builder!
Diggerland Durham is perfect for kids between 4 and 14 years old, but everyone can have an amazing time there. They have a chart on their website that tells you which rides are good for different heights. If you're under 100cm, you can even get in for free!
You can try out lots of different rides and activities at Diggerland Durham. If you're feeling brave, you can ride in or even drive (if you're tall enough) a giant JCB 3CX or try the JCB Robots course. There's even a ride called Spindizzy where you sit in the bucket of a big digger and get spun around!
If you want to relax, you can try the Skyshuttle ride and get lifted up 50 feet into the air for some amazing views. And there are also indoor and outdoor play areas, as well as exclusive Little Tikes Wheelz Playzones, all included within your entry fee. Plus coin-operated rides for younger kids to enjoy.
If you're planning a birthday party, Diggerland Durham is the perfect place for an action-packed day out. Kids can ride on and drive diggers feeling like a real grown-up in a construction-themed adventure park! Add on the VIP birthday celebration area to your booking for an extra special day!
Also if you're into electric cars, Diggerland Durham has partnered with EVision Electric Vehicles so grown ups can rent electric cars and vans from them. Picking up and dropping the vehicles back to any of the collection points located at your nearest Diggerland park. And if you drive an electric car and visit Diggerland Durham, you can even charge up your EV for free!
You can buy gift vouchers for Diggerland Durham too, which make great presents for your family and friends. Each voucher lets the recipient get into the park for a whole day for unlimited goes on all the main Diggerland rides and drives. Just remember to use them within 12 months of buying them!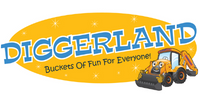 For more information about Diggerland Durham and all the fun you can have there, visit their website.