Looking for something a bit different for your child's birthday party?
At art-ful Pottery Cafe in Worthing we have an amazing choice of parties to choose from in our fabulous party room. The party room can seat 12 at its maximum and 8 as a minimum. You have the party  room for 2 hours, we can cater for the food or you can bring your own! We also have a chocolate fountain, temporary tattoos and hair feather extensions that you can add on to your party for an extra cost.
The party room also has a photo booth with lots of wigs and props for you to take lots of fun photos.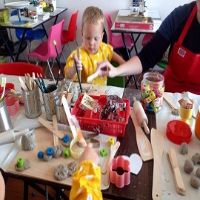 The art-ful Toddler- Messy Clay Parties
For the under fives we have messy clay parties, its sensory play inspired by the Reggie Emilia approach to early learning. Explore the clay with objects such as shells, beads, chains and cookie cutters. The clay is put back in the pot at the end of the session. We also include food within the price of the party.
Pottery Painting Parties
Choose from a large selection of pottery, we have cats, dogs, space rockets, cupcakes to plates and mugs and lots more! The birthday child will also get a hand print plate as a gift from art-ful. Your masterpieces will be bagged up and ready to collect a week later. We can theme your party too, perhaps a Mad Hatters tea party where everyone paints a cup and saucer? Let us know what your child is into and we can come with something.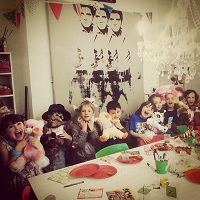 Build a Teddy Bear Parties
Choose a bear, make a wish upon a star, put it inside the bear. You then stuff the bear yourself. Once you have given your new bear the cuddle test you can design it a funky little t-shirt to wear with fabric pens.Fill in its adoption certificate and take it home!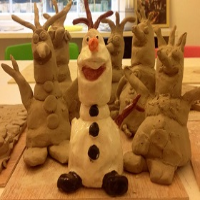 Clay Building Parties
You will be learning some basic clay building techniques such as making pinch pots, coil pots and slab building. From these techniques you will be able to make owls, minions , clay bunting or an emoji door plaque! The possibilities are endless. The clay work will be ready to collect in 4 weeks as it is a slower process than Pottery Painting. Ages 5 and over.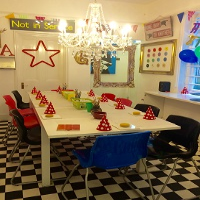 Arty Crafty Pamper Parties
Choose from making some wearable  butterfly wings out of felt, or decorate a mini hat or hair band. Hair feathers and tattoo are also included.For boys we can make dinosaur wings or super hero capes. Ages 6 and over.
If you would like to invite more than 12 children to your party, we can host up to 32 people in the front of the shop.Please give us a call at art-ful on 01903 532 818 or on Ninas mobile 07766812767.
Art-ful is open Saturdays 10 to 5pm, Sundays 11 to 4pm (all year) Tuesdays to Sundays through the school holidays. We will open in the week in term time for bookings only.Please like our Facebook page as that's where you will find out when all of the workshops and events are running.