ACCESSIBLE SESSIONS IN OUR AREA
Home Mcr,
Home Mcr's monthly relaxed film screening, Relaxed Events – HOME (homemcr.org) include:
Cinema lights on low
Film volume turned down a little
No trailers or advertisements before the film starts
You can move in and out of the cinema
A separate chill out space is provided if you need some time out of the screening
Play Factore, Trafford Quays Leisure Village
Play Factore Disability Sessions, held on the first Thursday of every month 6.30-8.30pm at the UK's largest family entertainment arena. Spend some quality time with the family in a safe, exciting and exclusive environment, meet friends and maybe make some new ones! Contact info@playfactore.com for more information.
www.playfactore.com
Boomerang Multi-Sensory Centre
Boomerang Multi-Sensory Centre is the largest fully accessible, safe, stimulating play centre in the North West. It is specifically designed to cater for children with special needs.
It has a large play frame, a sensory room, an interactive room and cafe. All rooms have hoists to allow full access to the equipment. There is also a fully accessible changing place.
Our exclusive special needs sessions are every Sunday 9-11 am (no need to book).  We also hold sessions throughout every school holiday
(booking essential)
These sessions are for children with special needs and their families. During the sessions we operate a no music policy for our visitors who find noisy environments too overstimulating.
We welcome all children 7 days a week.
Exclusive use hire of our rooms is available to our visitors with special needs.
Come along and visit us in a fun friendly environment where you will meet like-minded parents and not feel judged
Our Kids Social
Our Kids Social family events have proven to be popular for families with children who have SEND. Their silent discos ensure that the volume of the music is in the hands of the individual and can be switched off altogether at any time. Their large social events have area for quiet, arts and crafts and space to sit for a drink as well as the traditional dance floor areas. Music is not booming but rather at a level enjoyable for all. Additionally they provide birthday parties which again cater to the needs of the individual and their silent disco parties are perfect for children with sensory difficulties. Find out details of events at www.ourkids.social or request party info at parties@ourkids.social
The Lowry, Salford Quays
On the last Sunday of every month Relaxed Playhouse is an accessible visual art activity for children with additional needs aged 5-11 and their families.
The Lowry also hold relaxed performances which are open to everyone but are particularly appropriate for anyone who may find the usual theatre environment challenging. You can see a list of those performances here.
Inflatanation
Disability friendly sessions at Inflatanation are designed specifically for those people on the autistic spectrum & their families to enjoy!
They wanted to offer something different for, not only for those with autism generally but specifically for those with autism to take part in an activity that their whole family can enjoy alongside them. These sessions also provide an opportunity for families to meet other families facing similar paths in a fun environment.
What makes the session different?
The number of participants is halved
The music is turned down
A parent/carer can enter the arena FREE of charge with every participant
There is complimentary juice and biscuits for all participants following the session
Sessions take place Saturday morning at 9am to 10am.
https://www.inflatanation.com/classes/disability-friendly/ 
Sandcastle Waterpark, Blackpool
Sandcastle Waterpark is a fully accessible attraction with a wide range of facilities for guests with additional needs.
Accessible  Family Evenings NEW
For a number of years Sandcastle Waterpark has worked with a local charity, Aiming Higher to provide quality leisure time for local disabled children and their families. We have developed these sessions to meet the needs of disabled children so that we create an environment in which both they and their families feel comfortable, supported and where we are able to provide memories and enjoyment for each one of them.
Find out more about Sandcastle Waterpark here
Eureka!, Halifax
Eureka! has a Gold Award from Visit England for accessibility. Essential carers get in free, they provide ear defenders to borrow and have a quiet space available.
Adventure Forest Children's Indoor Play Centre, Trafford Park
Exclusive sessions take place for children with additional needs/ autism to play and parents/ carers to socialise and relax in the luxurious cafe.
Autism friendly/ additional needs sessions (1st Sunday of the month, 9:15-11:15am) Please book your sessions in advance using this link: 
During these sessions Adventure Forest provide a low stimulus environment for the children e.g no music / flashing lights / hand dryers and they limit the numbers so that it doesn't get over crowded. They provide picture food menus for those that require them and a quiet room for children that may need time out to relax. They also have picture signs around the play centre during the sessions for children that relate better to picture symbols.
They also have a social story on the website for people to look at before they visit so that they know what to expect.
They have also started providing parties in these sessions for children with autism / additional needs.
A children's changing table is now also available.
Vue Cinema, Altrincham
Autism friendly screenings are held at 10am on the last Sunday of every month during which the lights are left on low, the sound is turned down and trailers and adverts aren't played.
www.myvue.com/cinema/altrincham
Funtastic Fridays, Cheeky Cherubs, Urmston
An inclusive club is held at Cheeky Cherubs each Friday from 5-7pm for all disabilities, parents, carers and siblings to enjoy activities in a fun, friendly and safe environment.
www.cheekycherubscommunitylearningcentre.org
Simply Cycling, Longford Park and Wythenshawe Park
Everyone is welcome at these friendly, all ability, cycling sessions.
The Ice Cream Farm, nr Chester
Home to the world's largest ice cream shop, The Ice Cream Farm based just outside Chester in Cheshire, offers an amazing flavour of activity. Entry into The Ice Cream Farm, including parking, use of Daisy's Garden outdoor play area, and picnic and toilet facilities ranges from £1.50-£2.50pp. Additional attractions such as Strawberry Falls crazy golf, Fun Factory indoor play area, or Honeycomb Canyon Europe's largest indoor sand and water play area, cost just £4.50 each. However, massive savings can be made through the innovative Play Pass scheme, with passes starting from as little as £15 for five plays, making each play just £3 each.  Contact them or check out their social media @theicecreamfarm for details of future SEN adapted sessions.
http://www.theicecreamfarm.co.uk 
FREEDOME ˜Aerial Freestyle Trampoline Park', 
FREEDOME €˜Aerial Freestyle Trampoline Park', based on Cheshire Oaks, Ellesmere Port, is the next generation in active entertainment, offering much more than just your average trampoline park€¦ Every Sunday, between 9am and 10am before the park officially opens to the public, FREEDOME hosts FreeSpirits, an autism-friendly jump session.
www.freedomeparks.co.uk   
___________
SERVICES TO SUPPORT YOU AND YOUR CHILDREN
Wraparound Partnership
Making Sense of Special Needs
We are proud to be a social enterprise, founded by a parent of a child with complex needs, who had 18 years as a SENCO, before deciding to offer a holistic package of support to families, in the form of Wraparound. Being a positive employer towards parent carers and those with other disabilities means our team have all sorts of skills and experience, from housing, to mental health support, to clarifying EHCP and SEN support processes. We love nothing more than helping families find their own way through, being a guiding hand, we charge enough to remain totally independent and sustainable whilst being exceptionally affordable too.
If there is anything you are struggling to understand in this world of special needs we can help you make sense of it, this initial conversation is free too.
Phone: 0161 872 6879/ 0161 956 2081
Email: hello@wraparoundpartnership.org
Parent Concern
Parent Concern was set up over ten years ago by Sara Murawa an ex Head Teacher of a nursery school in Manchester.
Sara sees children from Year 1 to Year 12 with concentration problems, learning difficulties and SEN [special educational needs]. She sees children 1:1 and offers bespoke help.
Sara also sees children with the following challenges: ASD, ADHD, Dyslexia, Dyspraxia, delayed speech and those children that just need a little extra help. Many of her pupils have stayed with her for years.
Plus she sees adults who are dyslexic and need support in entry level English. They also support pupils studying GCSE  English and maths and those taking entry level English and 11 plus too.
Sara also offers 123 Magic behavioural parenting advice & verbal educational assessments.
Parent Concern also offer evening workshops on subjects such as Homework Wars, Bedtime Battles. Homework Wars on 6th March 2018 (advance booking required).
For information

go to: www.parentconcern.co.uk and for the latest workshop dates visit the Parent Concern Face book Page.
Sarah's Story
The moment you realise your child has special needs, or additional needs as I prefer, is the moment normality becomes a thing of the past.  Some people embrace their new world without a second thought, whilst others struggle to come to terms with the 'what ifs'.  For me it was like a grieving process, I was grieving for the child I had imagined in my head, but for me it involved all three children not just one.
Autism, ADHD EDS, asthma, anaphylaxis & DAMP became my life.  The Internet was my main source of research and trips to the paediatrician, physiotherapist and speech therapist became my world.
One of the hardest parts for me is when people don't always see our differences. All three children are in mainstream school, very intelligent and articulate. However, behind the scenes they all have a lot of support which has been embedded by years of school meetings, reports, emotional pleas and calls to the local authority.
Our life is planned and scheduled so that each child is fully prepared and knows what's happening now and next. Dinner has to be planned the night before and sleep is a rare luxury.  Trips out need military planning and contingency plans. Knowing what is available to access within your local area and nationally makes a huge difference.
My children, with me behind them, will achieve whatever they aspire to in life. It may not be as straightforward as they would like and they may have more mountains to climb, but climb they will.
So next time you see a child having a meltdown in the supermarket think, could the strip lighting and the noise be causing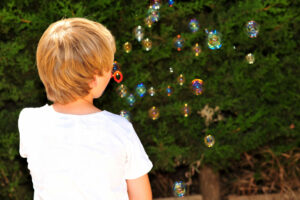 too much sensory stimulation? Or are they are throwing their book bag in the school playground because all the day's anxieties have built up in them like a rocket about to launch? Please just take a second and consider what they may be going through, before you make a judgement."
Sarah Jefferies lives in Chislehurst with her 3 wonderful children, and is constantly striving to get them the best support possible. 
Raring2go! has provided a round up of local venues which provide accessible sessions for children with disabilities or additional needs. If you'd like to provide additional details to add to our list, please get in touch altrinchamandsale@raring2go.co.uk