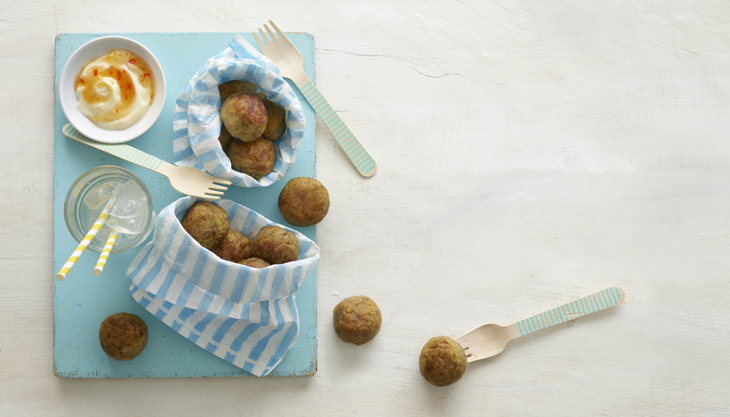 Makes 15 Portions
Suitable for freezing
Preparation 30 minutes
15 minutes cooking time
140 C°, 275 F°, Gas Mark 1
Ingredients
1 large white potato (about 440 g/15 oz)
40g / 1½oz dried or Panko breadcrumbs
50g / 2oz carrot, grated
4 spring onions, chopped
50g / 2oz brown mushrooms, chopped
40g / 1½oz grated Parmesan cheese
1 tablespoon chopped fresh basil
1 teaspoon chopped fresh thyme
2 teaspoons soy sauce
1 teaspoon sweet chilli sauce
1-2 tablespoons plain flour
2 tablespoons sunflower oil
Method
Prick the potato and bake it in the microwave for 7-10 minutes until soft. Leave to cool, then cut it in half and scoop out the flesh – you will need 250 g/9 oz potato.
Put the cool potato and remaining ingredients (except the flour and the oil) in the bowl of a food processor and blitz until chopped. Transfer the mixture to a bowl, season lightly with salt and pepper (if using) and shape it into 15 equal-sized balls.
Place the flour in a bowl and lightly coat the balls in flour. Transfer them to plate and chill for 15 minutes.
Heat the oil in a frying pan until hot. Fry the balls for about 2 minutes until golden all over and heated through. Serve with cucumber sticks and halved cherry tomatoes, or a mayonnaise dip with sweet chilli sauce.
These little balls are a fantastic way to pack in veggies and are ideal finger food. They are also ideal for batch-cooking and freezing, in readiness for those busy days. Just pop them in a plastic freezer box, separating each layer with greaseproof paper, and reheat from frozen in the oven or microwave.
Annabel Karmel Baby-Led Weaning Recipe Book
Whether you're about to wean and thinking of exploring the baby-led weaning approach, or simply looking for new baby-friendly finger foods and family meals to liven up your mealtimes, Annabel Karmel's new Baby-Led Weaning Recipe Book (RRP: £14.99) is out now and filled with 120 quick, easy and nutritious recipes, essential advice and tips to let your baby take the lead.