Vegan Pancakes by Juliet Sear
Cakes Biscuits & Sweet Treats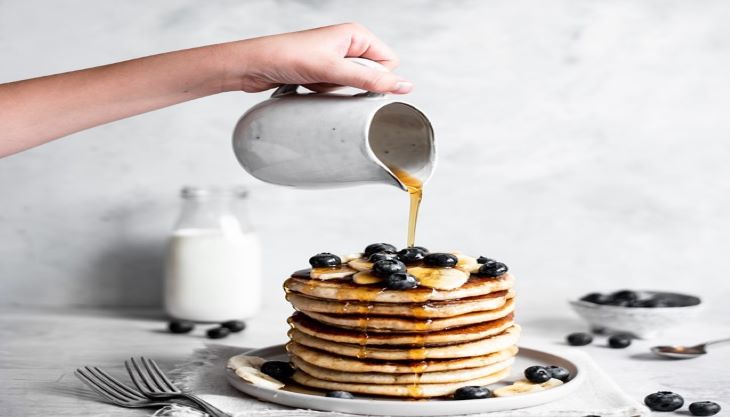 Makes 8 Portions
Suitable for freezing
10 minutes Preparation
5 minutes cooking time
Ingredients
140g Allinson's Self Raising Flour
2 tbsp Billington's Unrefined Golden Caster Sugar

This is the highest quality caster sugar available and is a great natural alternative to refined caster sugar. It has a warm golden colour from its unrefined nature and is fine grained with a subtle buttery taste, making it perfect for deliciously light sponges, shortbread and macaroons

10g Baking Powder
1 tsp Salt
240ml Soy Milk
1 tbsp Apple Cider Vinegar
1 tsp Nielsen Massey Vanilla Extract

Vanilla extract is a superior flavouring ingredient, derived solely from the vanilla pod by soaking it in alcohol and water. Only vanilla extract has the true flavour and aroma of vanilla pods, producing a fuller, richer taste which will transform the taste of any recipe. Vanilla is also a flavour enhancer so will work with other ingredients and flavours in a recipe to give amazing results! It is a versatile ingredient which can be used in both sweet and savoury dishes, try it in your cakes, cupcakes and buttercream. We always recommend using an extract rather than essence when baking. Our favourite extract is Nielsen-Massey, it gives consistently great results, the vanilla pods are hand picked in the finest growing regions of Mexico, Tahiti and Madagascar and enter a cold extraction process to extract the vanilla from the pod whilst still preserving over 300 flavour compounds.
Method
Place add all dry ingredients in a large bowl, whisk through to combine and aeriate.

Add wet ingredients to the dry mixture and whisk together, taking care not to over mix

Let batter sit for a couple minutes while your pan/griddle heats to medium-low

When your cooking surface is heated, lightly grease it (I use a little vegan butter)

Pour about 1/8 of batter into the pan (use a mug or ladle)

When the top begins to bubble, flip the pancake and cook until golden and puffy

Serve warm with pure maple fresh fruit, or any toppings you fancy
If you're after big fluffy light vegan pancakes then this vegan pancake recipe is for you. These vegan pancakes go so well with maple syrup and fresh fruit.
This recipe is courtesy of Baking Mad.com.  https://www.bakingmad.com