Ultimate Summer Berry Cake by Lily Vanilli
Cakes Biscuits & Sweet Treats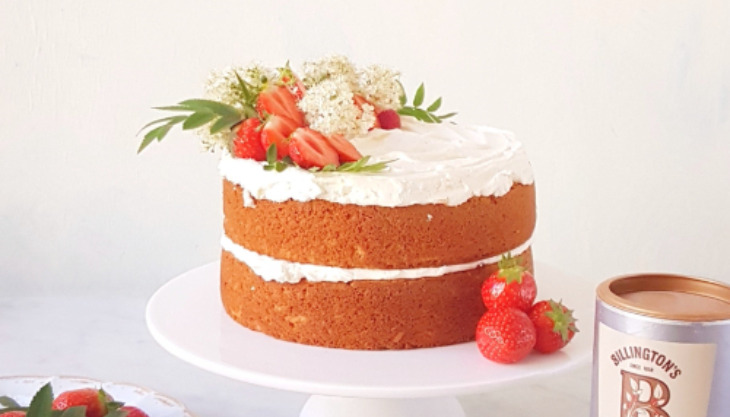 Makes 12 Portions
20 minutes Preparation
30 minutes cooking time

200

 C°, 

400

 F°, Gas Mark 

6
Ingredients
For the Sponge

330g Allinson's plain white flour
320g Billington's Unrefined Golden Caster Sugar
1.5 tsp Baking powder
Pinch Salt
175g Unsalted butter (room temperature)
3 Eggs (medium)
190ml Whole milk
Handful Seasonal berries
Sprig Elderflower (to decorate, optional)

For the Buttercream

100g Unsalted butter (room temperature)
300g Billington's golden icing sugar
1 tsp Nielsen-Massey Vanilla Extract
75ml Double cream
Method
Step 1:

Preheat the oven to 200ºC/180ºC fan/gas 6.

Step 2:

In a bowl, whisk together the flour, caster sugar, baking powder and salt. Beat in the butter until the mixture appears to be evenly coated and looks like a fine crumble mix, about 2–3 minutes using an electric mixer on medium speed.

Step 3:

Now add the eggs and beat, on medium, just until incorporated. Add the milk and vanilla and beat, on medium and then on high, until the mixture is smooth and combined, but also a bit lighter in colour – really go for it with the beating…it will take a good 3-4 minutes.

Best Batter

Always scrape down the sides of the bowl in between adding ingredients.

Step 4:

Divide the mixture between your two prepared tins and level out to the edges. Bake for 25–30 minutes, or until a toothpick inserted into the centre comes out clean.

Step 5:

Leave to cool completely, then turn out of your tins.

Step 6:

To make the vanilla buttercream, beat the soft butter alone for 4–5 minutes on high speed. Add the icing sugar, vanilla (or berries) and cream and beat on a low speed to bring it together, then turn up and beat on high for another 2–3 minutes.

Step 7:

Once your cake is completely cool, use the back of a spoon to spread some of the buttercream on top of the first layer.

Step 8:

Then pile it with chopped fresh strawberries or redcurrants or any fruit you like. Place the second layer on top and decorate with cut strawberries or any fruit plus fresh flowers or elderflower if you like.
This Ultimate Summer Berry Cake recipe has been created especially by our friend Lily Vanilli. If you're looking for a sponge cake made with the best ingredients for the best flavour, this one is for you. Lily has adorned this beautiful cake with buttercream and fresh flowers making it a really pretty bake. This cake recipe is perfect if you've got friends round for a coffee
This recipe is courtesy of bakingmad.com