Twice-Baked Potatoes with Leeks and Cheese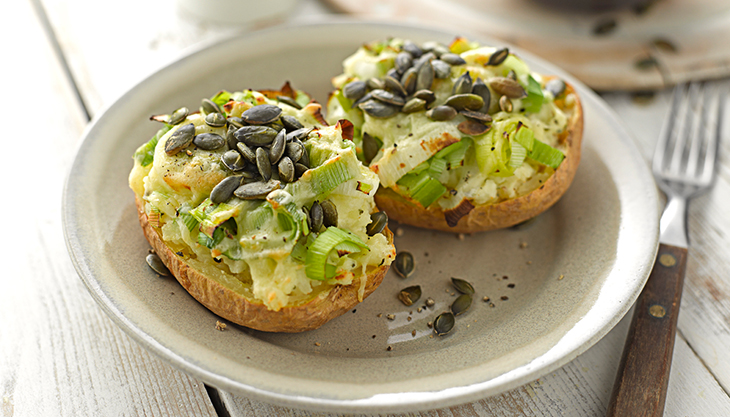 Makes 2 Portions
Not Suitable for freezing
Preparation 10 minutes
80 minutes cooking time
180 C°, 350 F°, Gas Mark 4
Ingredients
2 large baking potatoes
1 medium leek
1 tbsp pumpkin seeds
80g vegetarian cream cheese with garlic and herbs
1 tbsp semi-skimmed milk
Pinch of ground black pepper
40g vegetarian mature Cheddar cheese, coarsely grated
Method
Preheat the oven to 180°C / gas mark 4. Bake the potatoes until cooked through, approximately 45 to 60 minutes
When the potatoes have nearly finished baking, prepare the leek by slicing it almost in half lengthways, then fan it out under a running tap to wash away any trapped dirt. Slice each half into four lengthways, then cut into 5mm slices.
Blanch the leek by plunging into a pan of boiling water for 1 minute. Drain and set aside.
Toast the pumpkin seeds in a dry pan over a low heat for a couple of minutes, watching them carefully so they do not burn. Set aside.
Once the potatoes have finished baking, cut them in half lengthways and scoop out the flesh into a bowl. Retain the potato skins for later.
Add the cream cheese and milk to the bowl with the potato flesh, season with black pepper, and mix together with a fork
Fill each of the four potato skins with the potato and cheese mixture, then top first with the leeks, followed by the grated Cheddar cheese.
Place the potatoes on a baking tray and return to the oven for 20 minutes or until golden brown.
Sprinkle the potatoes with pumpkin seeds and serve.
Potatoes are a good source of B vitamins and vitamin C, both of which are essential for healthy skin
©The Vegetarian Society, recipe from Happy, Healthy and Delicious cookbook
Energy: 434 kcals Protein: 21.5g Carbohydrate: 49.3g Of which sugars: 5.1g  Fat: 15.7g Of which saturates: 7.6g Fibre: 7.6g Salt: 0.9g
TV chefs the Hairy Bikers are on board for National Vegetarian Week 15-21 May 2017! Si King and Dave Myers, aka The Hairy Bikers, are getting involved in National Vegetarian Week and they think you should too!  
So visit nationalvegetarianweek.org  to get your free poster packs and sign up for newsletters filled to the brim with recipes, tips and fun stuff.