Red Velvet Cupcake Bouquet
Cakes Biscuits & Sweet Treats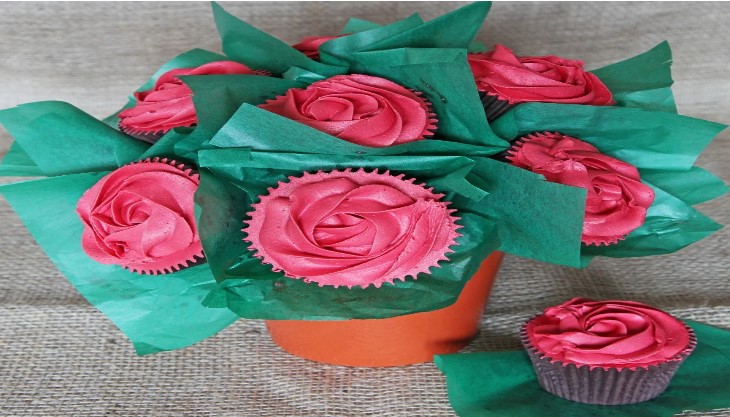 Makes 12 Portions
Preparation 40 minutes
25 minutes cooking time

180

C°, 35

0

F°, Gas Mark 4
Ingredients
For the cupcakes

225g Butter (unsalted) (softened)
225g Billington's Unrefined Golden Caster Sugar
3 Egg(s) (free range) (medium)
1 tsp Nielsen-Massey Vanilla Extract
190g Allinson's Plain White Flour
35g Cocoa powder
10g Baking powder
1.5 tbsp Pink food colouring

For the buttercream

500g Silver Spoon Icing sugar
250g Butter (unsalted) (softened)
1 tsp Nielsen-Massey Vanilla Extract
1 tbsp Pink food colouring
Method
To create the finished bouquet you will need: 12 wooden skewers or gardener's green sticks, green oasis and a small plant pot.

Preheat the oven to 180°C (160°C, gas mark 4) and line a 12 hole cupcake tin with cupcake cases.

Cream together the butter and sugar until pale and fluffy, then add the beaten eggs one by one and the vanilla extract, mixing well between each one to ensure the mixture doesn't curdle.

Sift in the flour, cocoa and baking powder and carefully fold in until just incorporated, do not over mix. Then add the red colour and carefully mix until distributed evenly through the batter.

Spoon into the cupcake cases until they are 2/3 full then place in the oven for 25 minutes or until a skewer comes out clean and the cakes are springy to the touch.

Remove from the oven, leave to cool then transfer to a cooling wire to cool completely.

To make the buttercream, place the butter and icing sugar in a large bowl with the vanilla extract and start to beat together slowly to start with then increase the speed and beat until the buttercream is light and fluffy. You can add a few drops of food colour here if you wish.

Pipe swirls of buttercream onto the top of each cake using a piping bag. To construct the bouquet place some oasis in the base of a plant pot, then place a skewer into the bottom of a cupcake then stick this into the oasis, work your way round from the base and then into the centre to finish.
About the bake
These red velvet cupcakes are delicious, simply decorated with buttercream and presented as a bouquet of a dozen red cupcakes this is a fantastic gift idea for valentine's or mother's day.
This recipe is courtesy of Bakingmad.com