Cakes Biscuits & Sweet Treats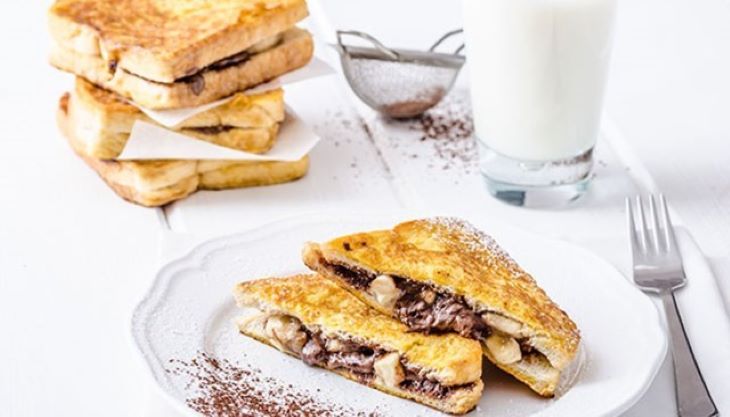 Makes 4 Portions
Preparation 5 minutes
2 minutes cooking time
Ingredients
250g Nutella
8 slices Homemade White Loaf
5Eggs (Free Range, Large)
60mlMilk (Whole)
2 tbsp Butter
1 tsp Nielsen Massey Vanilla Extract
Method
Watch our video of Eric making his delicious Nutella French toast.

Heat your butter in a frying pan until melted. In a separate bowl whisk together the milk, vanilla extract and egg, then pour into a shallow dish.

Slice a homemade loaf in to 8 portions (or less if you prefer) Spread the Nutella between two slices and sandwich. Repeating until you have 4 sandwiches.

Briefly dip each sandwich in the egg/milk mixture until both slices of bread are coated, then one by one place into the frying pan.

Fry the sandwiches until golden in colour and then flip over to fry the other side. Once both sides are golden remove from the frying pan and place on to kitchen towelling to absorb any of the excess butter.

Serve immediately with fresh fruit, a dusting of icing sugar or whipped cream.
This Nutella French Toast recipe is the breakfast of champions. Picture this, a relaxing Sunday morning, chilling in your pjs and munching on French toast oozing with a warm Nutella filling. If this sounds like you idea of the perfect breakfast then what are you waiting for?
This recipe is courtesy of Baking Mad.com.  https://www.bakingmad.com