Meatballs with tomato sauce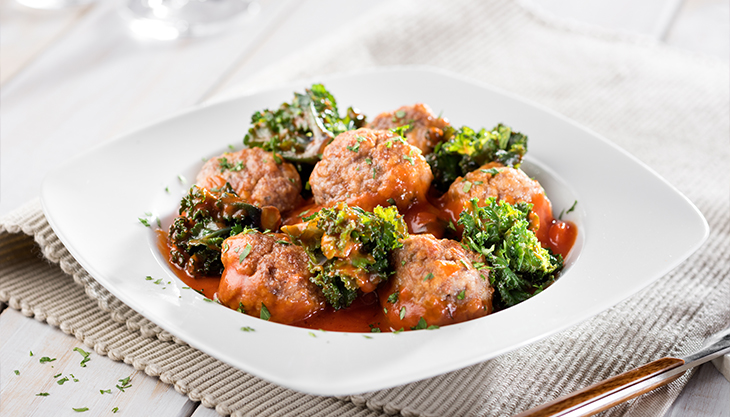 Makes 4 Portions
Suitable for freezing
Preparation 45 minutes
15 minutes cooking time
200 C°, 400 F°, Gas Mark 6
Ingredients
400g Kalettes®
400g minced beef
200g minced pork
1 egg
1 garlic clove
1 sprig parsley
1 slice bread
½ glass milk
1kg ripe tomatoes (or 400g tomato passata)
1 onion
1 small carrot
1 celery stalk
Bay leaves
3 tablespoons olive oil
Black pepper
Ground cinnamon
Salt
Seasoned flour
Method
Peel the onion and carrot. Clean and remove the strands from the celery. Chop the onion, carrot and celery and place in a big saucepan with 3 tablespoons of olive oil and 2 bay leaves. Sauté for 4 minutes on allow heat and add the chopped tomatoes. Cook on a low heat for 15 minutes (if using tomato sauce) or 1 hour (if using ripe tomatoes), stirring occasionally.
Soak the bread in the milk. Peel and chop the garlic. Mix the meat with the egg, bread (squeezed out), garlic and half the parsley. Add a pinch of cinnamon and season to taste
Shape the meatballs; roll them in the flour, place on a tray and bake in the oven at 200ºC
Cut off the base of the Kalettes® clean and cook in salted boiling water for around 5 minutes.
Remove the bay leaves from the tomato sauce and mash the vegetables. Add the meatballs and Kalettes® to the sauce and cook on a low heat for 10 minutes. Once ready, sprinkle the remaining parsley over the top just before serving. Enjoy!
Kalettes®, are a natural hybrid between Brussels sprouts and kale, they emerged in 2011 as the result of the work of independent British seed house Tozer Seeds. First sold exclusively in M&S, the product soon appeared in Asda, Sainsbury's and Waitrose.