Make a Jet Pack with DoCrafts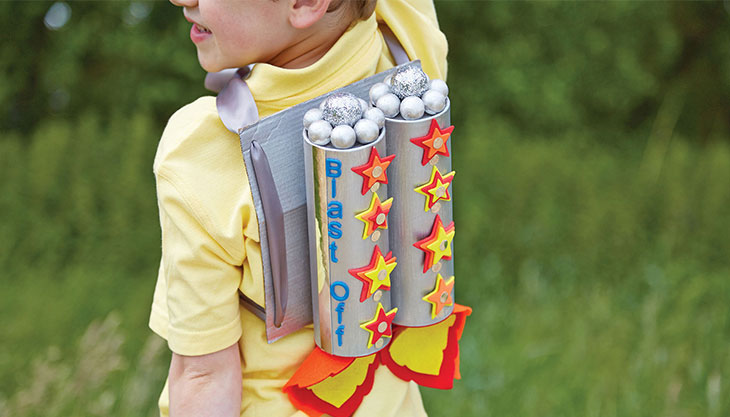 Some call it junk modelling, some recycling, whatever you want to call it, kids love using boxes and tubes from household products to make things! This project is perfect for that
1. Remove the pop-off lids from two recycled crisp tubes. Paint the tubes with white paint until well covered and leave to dry. Add a couple of top coats of metallic silver paint.
2. Cut four 1cm wide strips of silver cardstock and glue to the sides of the tubes. Layer up different sized and coloured foam stars and adhere down the centre of the tubes. Add some silver circles to the stars and in-between the gaps.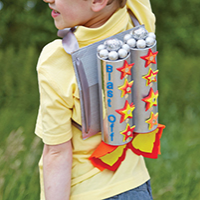 3. Die cut ˜Blast Off' from funky foam for your child to apply down one of the tubes. Paint some small polystyrene balls in metallic silver paint and cover two medium polystyrene balls with glitter. Leave to dry. Glue the balls to the top of the tubes with the glitter balls in the centre.
4. Cut flames from orange, red and yellow felt. The next step is best left to an adult. Using a craft knife, cut a small cross in the plastic lids of the tubes. Push the ends of the felt flames through the cross.
5. Cut a square piece of cardboard slightly larger than the two rocket blasters placed next to each other. Paint the cardboard with silver paint. When dry, glue on the rocket blasters. Pierce a hole in each corner and thread ribbon through to 
create straps.
You are now ready for blast off!
Project by Beckie Dreyer, Creative Designer at docrafts.