Lamb Ratatouille-A veg and lamb feast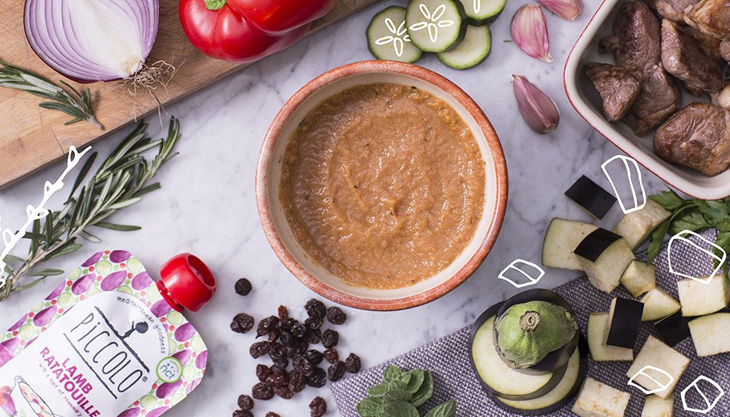 Makes 8 Portions
Suitable for freezing
Preparation 15 minutes
45 minutes cooking time
140 C°, 275 F°, Gas Mark 1
Ingredients
1.2 kg leg of lamb, deboned, cut into large pieces
1 teaspoon fresh parsley, chopped1 teaspoon fresh rosemary, chopped
pinch of fresh or dried thyme
1 tablespoon olive oil
1 clove of garlic, peeled and crushed
1 medium onion, peeled and diced
1 medium aubergine, cut into pieces
1 medium courgette
1 red pepper, deseeded and cut into pieces
1 x tin chopped tomato
5 raisins
Method
On a high heat, heat the olive oil in a deep, large, heavy bottomed pan. Pat lamb dry and seal the edges of the meat in the pan, until it is brown all over. Remove the lamb from the heat and set aside in a plate. Scrap the meat off the pan and add a little water to the pan to deglaze it.
Add a dash more olive oil and turn the heat to medium, then add the onions. Cook for a few minutes to soften, then add the garlic, aubergine, courgette and pepper and cook, occasionally stirring for 8-10 minutes.
Stir in tomatoes, raisins and fresh herbs. Bring to the boil, then reduce the heat to low, cover and cook, stirring occasionally for 30 minutes.
You can also do this in a slow cooker cooking over night for a very tender lamb dish.
Once cooked remove from the heat and either puree or serve chunky with rice or couscous and peas or broccoli.
Slow cooked leg of lamb with a delicious ratatouille sauce made from tomato, courgette, aubergine and peppers cooked with garlic, rosemary and thyme.