Cakes Biscuits & Sweet Treats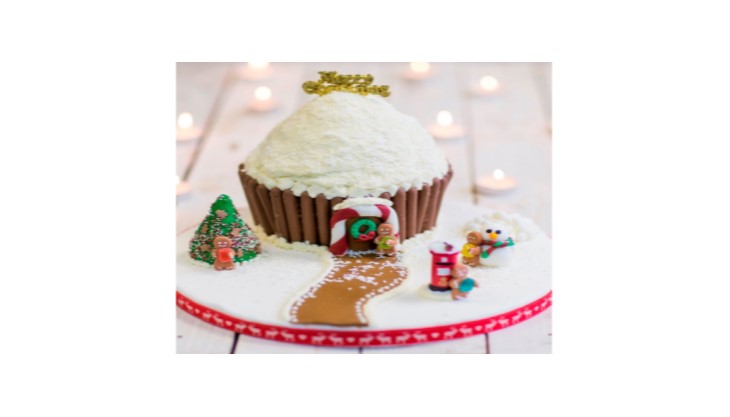 Makes 12 portions
Preparation 60 minutes
60 minutes cooking time

140

C°, 275 F°, Gas Mark 1
Ingredients
For the Sponge

340g Unsalted butter (softened)
290g Self-raising white flour
50g Cocoa powder
340g Billington's Unrefined Golden Caster Sugar
2 tsp Baking powder
6 Free range large eggs

For the Chocolate Buttercream Filling

75g Unsalted butter (softened)
180g Silver Spoon Icing Sugar
70g Cocoa powder
1 tsp Nielsen-massey peppermint extract

For the Buttercream Topping

150g Unsalted butter (softened)
500g Silver Spoon Icing Sugar
1 tsp Nielsen-Massey Vanilla Extract

For the Decoration

3 Chocolate finger biscuits (packs of)
1kg White sugar paste icing
25g Dessicated coconut
100g Green sugar paste icing
A selection Sweets
A handful Sprinkle decorations
1 tbsp Apricot jam (melted)
Method
Preheat the oven to 160°C (140°C, 320°F, gas mark 3) Grease and lightly flour a giant cupcake mould, shaking off any excess flour

Cream the butter and sugar together and gradually add in the eggs one by one, mixing between each egg.

How to cream butter & sugar

Sieve the flour, cocoa powder and baking powder into the mix and whisk until fully incorporated.

Place in the oven and bake for 1 hour or until the cake is cooked throughout. Remove from the oven and leave to cool on a wire cooling rack.

Whilst the cake is cooling, roll out the white sugar paste and cover a thick 9″ cake board, securing in place by brushing the board with apricot jam before covering. Carefully trim the excess sugarpaste icing with a knife.

Unicorn cake

To make the chocolate buttercream filling, beat together the butter, icing sugar, cocoa powder and peppermint extract until smooth. You may need to add a splash of mix to loosen it up.

How to make buttercream

Spread a small amount (approx a teaspoon) of the buttercream onto your iced cake board where you would like to position your cake and put the cupcake base on top to fix in to place.

Carefully carve out a shallow indent in the centre of your cupcake base to fill with the buttercream and gently spread over the buttercream. Place the top cupcake sponge on top of the buttercream.

To make the vanilla buttercream topping, beat together the butter, icing sugar and vanilla extract.

Carefully spread a thin layer of buttercream around the outer side of the cupcake base and stick chocolate fingers around the base.

Pipe or spread the remaining vanilla buttercream on to the roof of the cupcake and sprinkle with dessicated coconut.

How to make piping bags 2 ways

To make the Christmas tree, roll a ball of green sugar paste into a cone shape and coat with coloured sprinkles. Secure the tree to the cake board using a small dab of water on the base of the tree.

Use coloured sugar paste to make the additional decorations or alternatively use prebought cake toppers and get creative with your decorating.
About the bake
If you are not a fan of the traditional Christmas fruit cake but would still like a festive cake – then this Giant Christmas Cupcake is the one for you. This giant cupcake has a delicious chocolate sponge and is filled with a chocolate peppermint buttercream. Baking and decorating this cake is a fun activity to get the family involved with and is sure to be a showstopper that all your friends will comment on.
This recipe is courtesy of www.bakingmad.com